Day Trip
Phuket Diving Day Trip
Phuket has a wide variety of dive sites within reach of a day trip and there's something for everyone. From the easy relaxed reefs at the Racha Islands to the King Cruiser Wreck and the soft corals at Shark Point, you'll find every dive offers something different. We work with the best dive boats in Phuket and can tailor make the right package for you. Diving at the best dive sites all year round. We work with various Phuket boat operators to ensure we can offer just about any dive site on any day. Please take a look at your options and contact us with your day trip wish list!
Racha Yai & Racha Noi Islands
3 Dives – Full Day
The Racha Islands are directly south of Phuket. This trip will normally include 2 dives at Racha Noi and 1 dive at Racha Yai. The boat takes about 2 hours to reach Racha Noi for the first dive allowing plenty of time for breakfast, preparing equipment, briefings and relaxation. The trip can accommodate all levels of diver. Beginners can dive in shallow areas while more experienced divers have deeper water to explore. Racha Noi has the best visibility of all dive sites in the area, averaging 25 metres. Marine life ranges from small reef fish to manta rays!
Who can participate?
Discover scuba diving (Not Certified diver)
Certified diver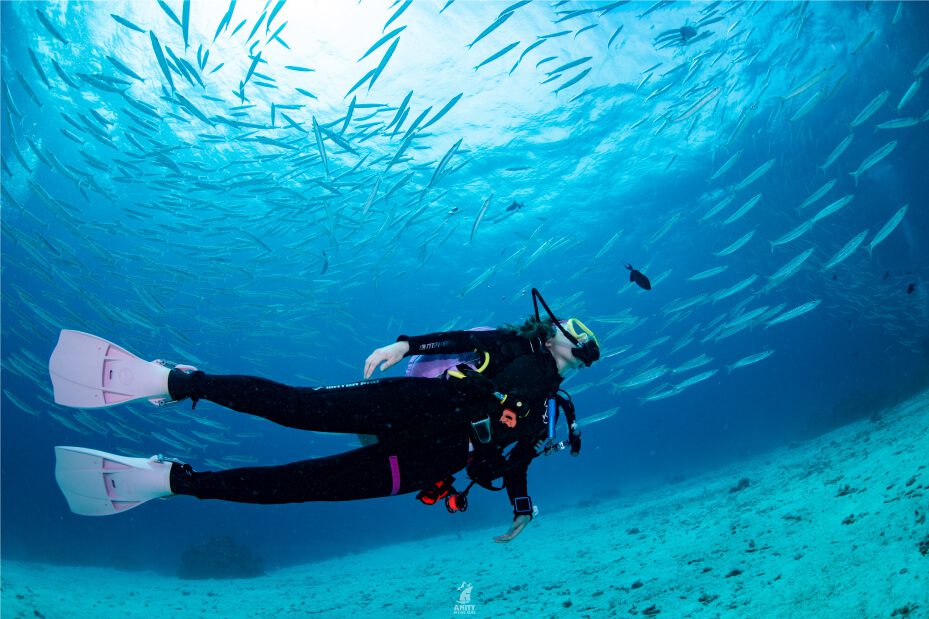 Phi Phi Island & Shark Point Or Anemone Reef
3 Dives – Full Day
Phi Phi Island day trips are available from Phuket with 1 to 3 dives at the Phi Phi Islands. Super Sunday with 3 dives at Phi Phi islands, 2 dives at Phi Phi plus 1 dive at Shark Point or Anemone Reef. As well as 1 dive Phi Phi, 1 dive Shark Point and 1 dive Koh Doc Mai. The Phi Phi Islands are about 40km east of Phuket. Normally we are diving at Koh Bida Nok or/and Koh Bida Nai which are right in the south of the Phi Phi Islands, as well as Palong Wall located at Phi Phi Le Island. The dive sites of Shark Point, Anemone Reef and Koh Doc Mai are in between Phi Phi and Phuket.
Who can participate?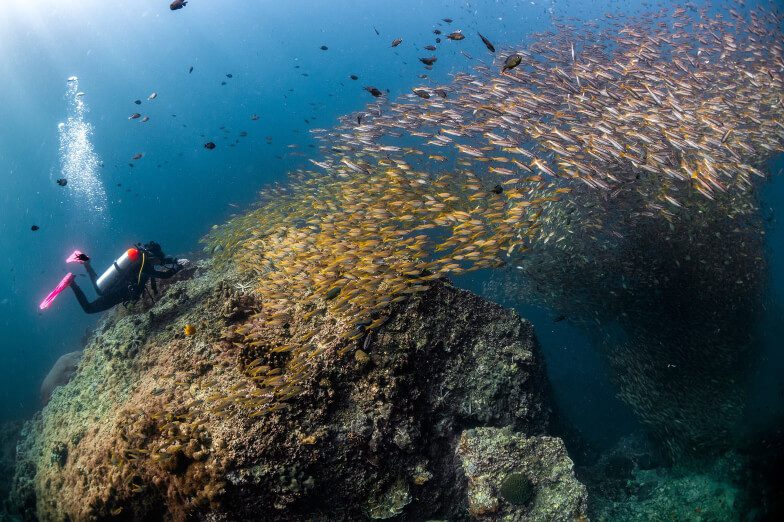 King Cruiser, Shark Point & Koh Doc Mai
3 Dives – Full Day
This trip with 3 different dives at the King Cruiser Wreck, Shark Point and Koh Doc Mai island runs every day in high season and most days in low season too! The King Cruiser was a large ferry boat, formerly a car ferry, which sank over 20 years ago between Phuket and Phi Phi after hitting the top of Anemone Reef. This will normally be the first dive, with subsequent dives at Shark Point, a submerged pinnacle of soft corals and Koh Doc Mai, a limestone island that juts up steeply from the water. Sometimes, due to strong currents, the first dive may be at Koh Doc Mai rather than the wreck.
Who can participate?