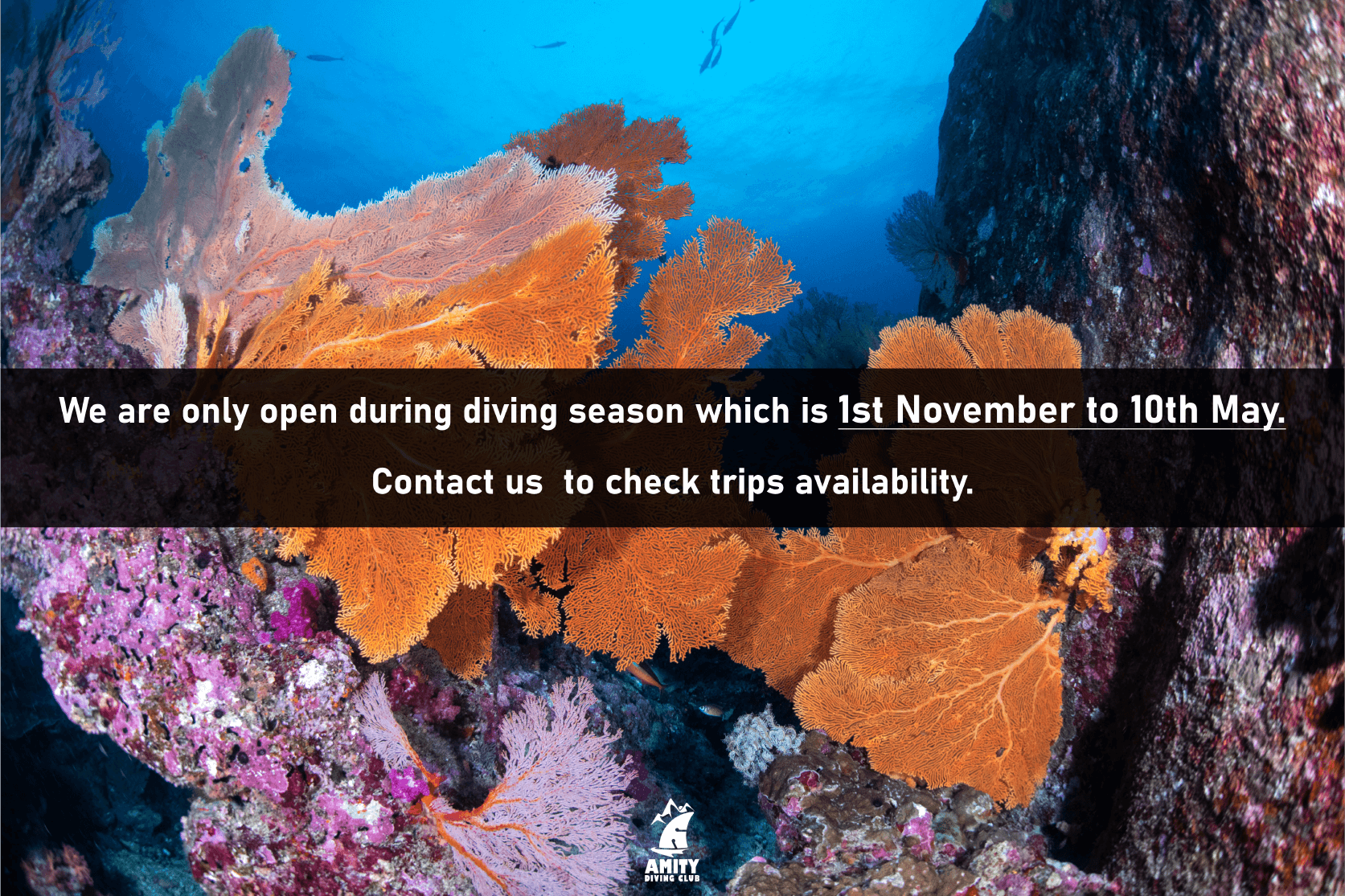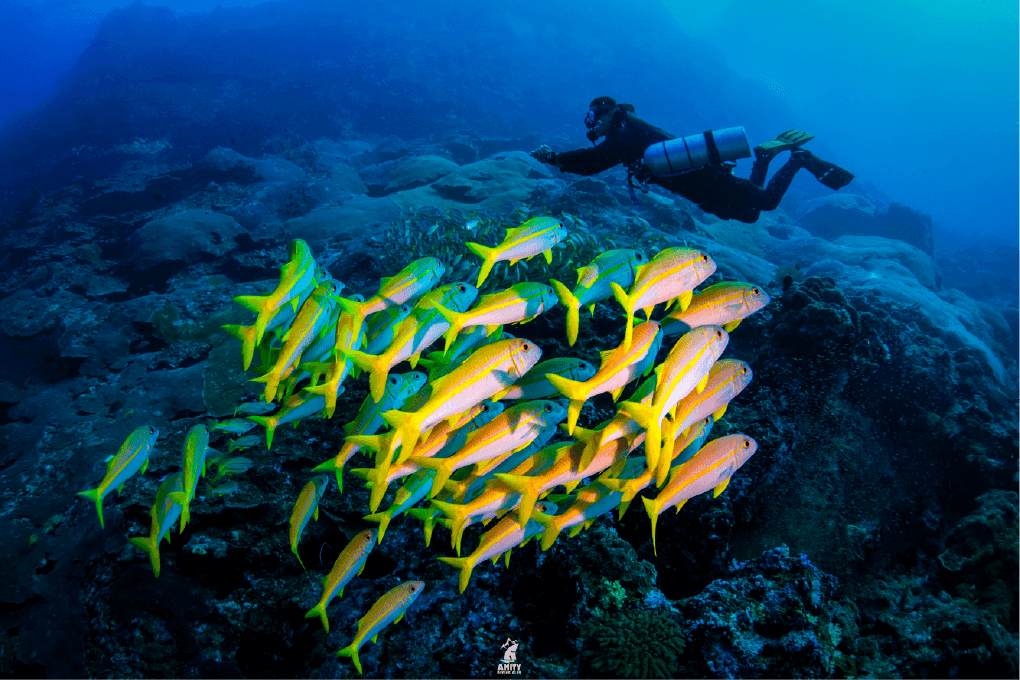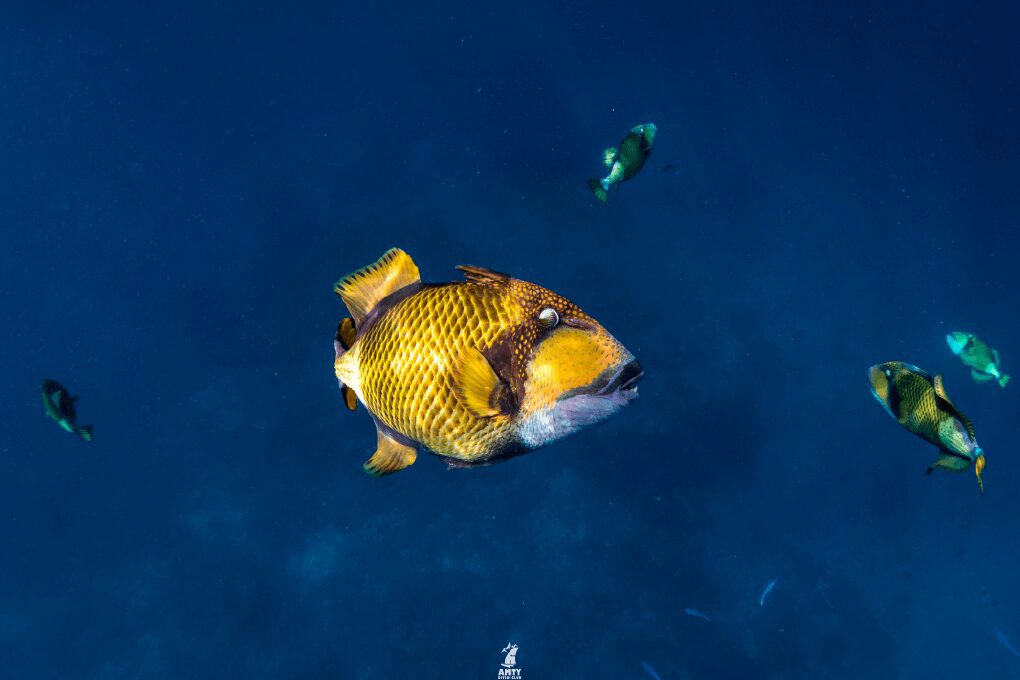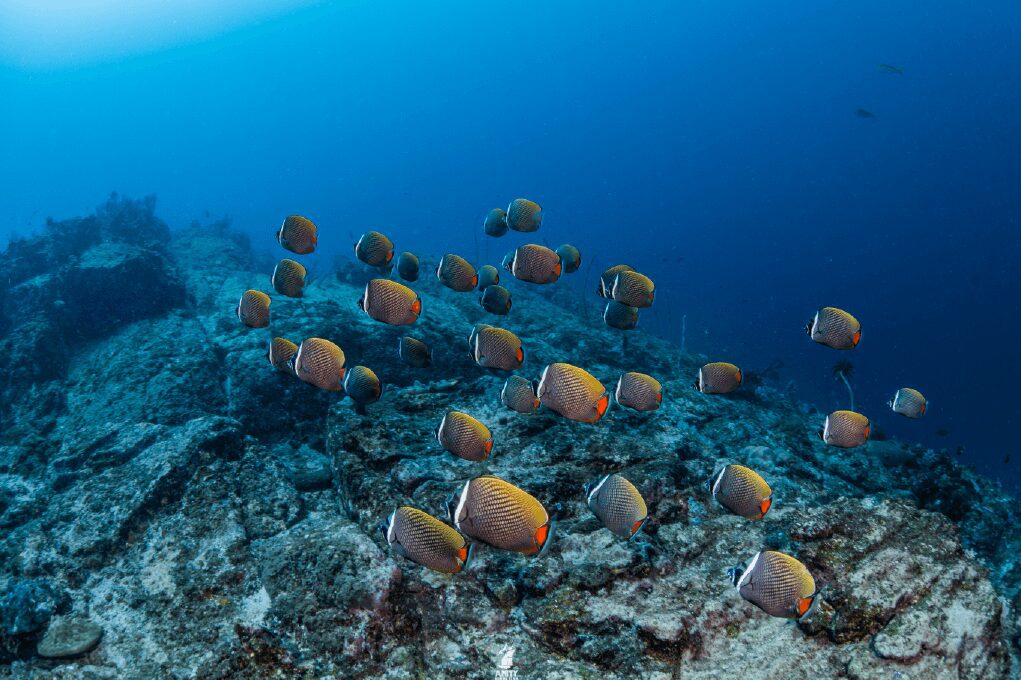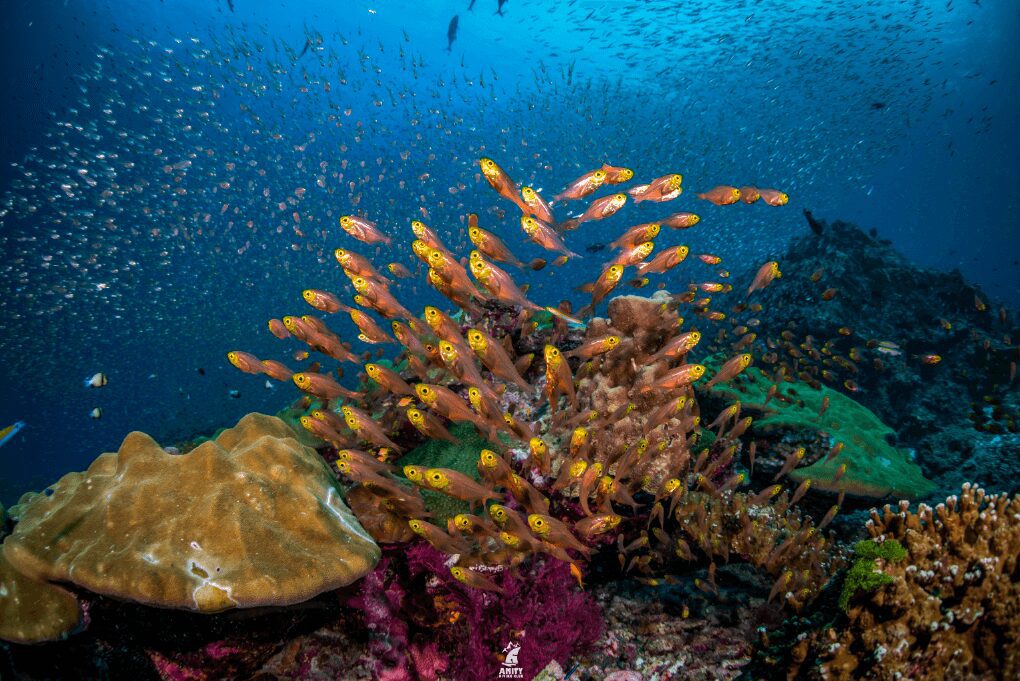 View Gallery
View Gallery
Koh Bon & Koh Tachai
2 Dives / Lunch on MV Koon 9 - Full Day
5,400 THB / PERSON
Pay extra for national park entrance fee 300 THB for Thai people / 700 THB for Foreigner
Pay extra for Equipment rental full set 500 THB
Dive computer 300 THB/Day
** This Trip Is For Certified / Licensed Divers Only **
If you are not a certified/licensed diver please go to this link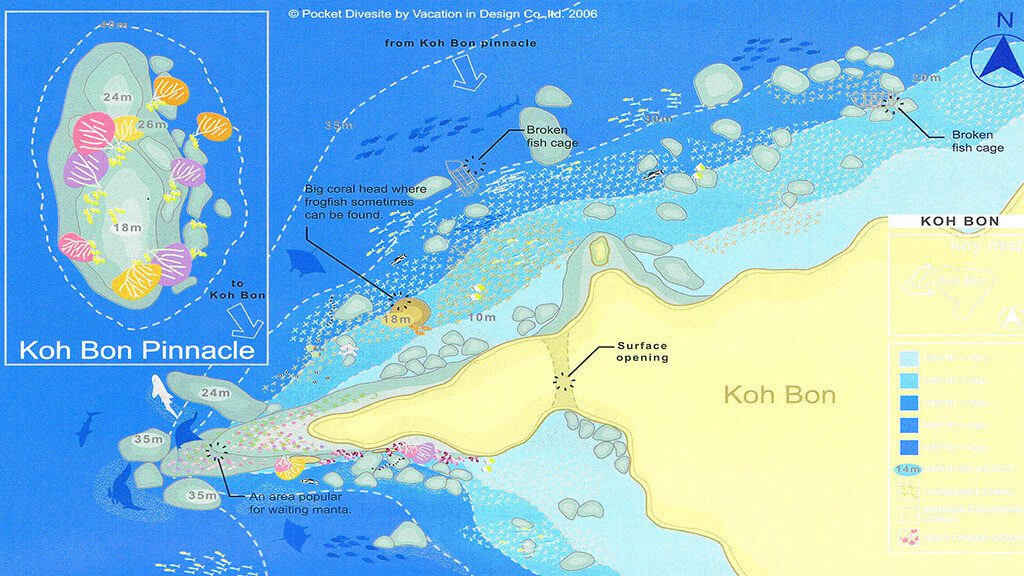 Koh Bon Ridge
Koh Bon Ridge is the dive site that stretches around the cape on the western corner of Koh Bon Island, which is not part of the Similan Archipelago although part of the same National Park administration. The stepping rocky ridge that can be seen out of the water continues all the way underwater, giving the name to the dive site. The underwater scenery at Koh Bon Ridge is absolutely unique, with an incredible amount and diversity of marine life. Koh Bon is also the hot spot for Mantas in Thailand! We usually start our dive near the bay at the south side of the ridge. Here the scenery is characterized by a straight wall that at 10-12 meters of depth changes into a sloping hard coral garden, the corals here are in pristine conditions. The area is teeming with thousands of reef fish including species that are not commonly found in other Thailand dive sites. Keep an eye towards the deep side as White Tips and Guitar Sharks are sometimes spotted there. We then move to the ridge, where the scenery changes drastically with large square rocks that get deeper and deeper, like giant steps. The rocks on Koh Bon Ridge are covered by small soft corals of different colors, offering a stunning visual impact. This part of the dive site is often subject to strong current, which on the plus side attracts lots of fairly sized pelagics like Trevally and Tunas. The ridge is also the spot where the oceanic Manta Rays tend to gather, as the whole area is a large cleaning station…keep an eye to the blue all the time! The ridge steps end at around 35 meters of depth, and at the bottom of it lies a "hidden gem" that not many divers know about, a glowing orange anemone (see photo). It is usually possible to get to the end of the Koh Bon Ridge only when the current is not too strong. We then go around to the north side of the ridge and proceed in that direction, here the bottom changes again into a sloping hard coral garden and small rocks. Keep an eye to the rocks as here is often possible to spot octopus (if not too camouflaged!) and Banded Sea Kraits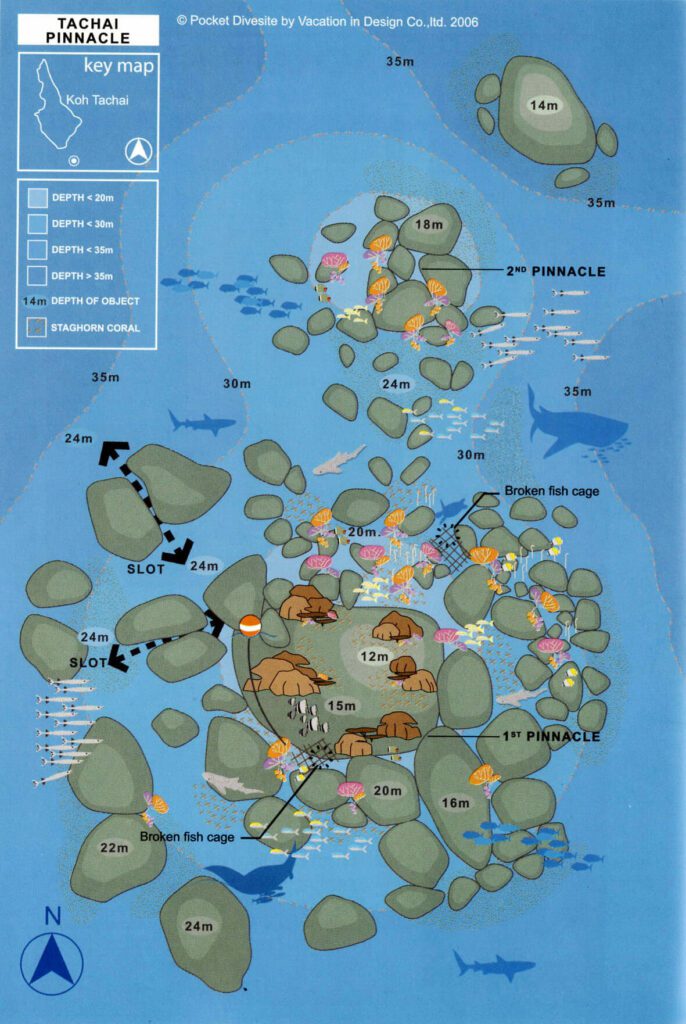 Koh Tachai Pinnacle
Koh Tachai Pinnacle, on a good day, may very well compete with Richelieu Rock for the title of best Thailand dive site. This group of submerged boulders is, on most days, crossed by very particular (often strong) currents that attract an incredible amount of predatory fish in schools. With a bit of luck, especially between January and May, Mantas and Whalesharks can also be encountered here! Koh Tachai Pinnacle is made by a submerged group of gigantic granite boulders that remind of the Similan Islands dive sites. The summit is at around 10 meters of depth and has a mooring line/buoy to assist divers in their descent. There are actually two pinnacles, the main pinnacle in the south is bigger and is the area where most dives at Koh Tachai Pinnacle take place. It is made by a huge dome-shape boulder surrounded by many other smaller ones. The scenery on the pinnacle is very diverse, as the southern side is characterized by large and oddly shaped boulders that create a stunning underwater scenery, while on the north side lays one of the most beautiful and pristine coral gardens in Thailand. This huge pinnacle connects to the smaller second pinnacle to the north through a sand patch at 24 meters, with an approximately 50 meters long swim. The top of the northern pinnacle lies at 18 meters of depth, and comprises a wide range of rock formations and is home to large and beautiful sea fans and soft corals in pristine conditions. But the amazing underwater topography and coral reef pale in comparison to the insane amount of fish and marine life that can be found at Koh Tachai Pinnacle. Large schools of huge Giant Trevally, Bluefin Trevally, Dogtooth Tunas and Rainbow runners are often hunting around the boulders offering a spectacular show for the divers. A massive school of Chevron Barracudas is occasionally found whirlpooling over the pinnacles. Large Marble Groupers literally all over the place, and schools of curious Batfish often keep us company during the safety stop. And these are just the major highlights, but there is much much more to be spotted here, including occasional passage of Manta Rays and Whalesharks when lucky! One dive is simply not enough to fully enjoy this amazing dive site. More often than not, the current at Koh Tachai Pinnacle can be very strong and that's why the dive site is teeming with so much life. This can make it a challenging dive, although it can be easily managed by hiding behind the boulders and swimming close to the bottom.
Included
Free transfer around Khaolak, Namkhem charge 500 THB/Pax
Extend Night 5000THB / Day
Nitrox 300THB / Tank, Divers 19 dives up free Nitrox 1tank/pax/day, Divelead free Nitrox 1tank/pax/day
15L air tank for rent 300THB/day
Excluded
Free transfer around Khaolak, Namkhem (Phuket, Out of Khaolak, Namkhem charge 500THB/Pax)
MV Koon 9 - Weekly Plan Day Trip
10:30 First Dive/ 14:00 Second Dive
Dive 1
10.30
Dive 2
14.00
Sunday
Richelieu Rock
Richelieu Rock
Monday
Surin Islands
Surin Islands
Tuesday
Surin Islands
Surin Islands
Wednesday
Tachai Pinnacle
Koh Bon
Thursday
Similan Island no.5-6
Similan Island no.7
Friday
Similan Island no. 9
Similan Island no. 9
Saturday
Koh Bon
Tachai Pinnacle
Boat Schedule - Richelieu Rock
| | | |
| --- | --- | --- |
| Sunday | Not Available | - |
| Monday | Similan Islands ( Lunch on the Similan Island No.4 ) | 2 Dives |
| Tuesday | Not Available | - |
| Wednesday | Not Available | - |
| Thursday | Not Available | - |
| Friday | Similan Islands ( Lunch on the Similan Island No.4 ) | 2 Dives |
| Saturday | Not Available | - |
Itinerary
TIME
The Seastar team welcomes you on board at Seastar Pier (Tub-lamu Pier) to check in. Serve you with hot drinks and a bakery.
Depart to MV Koon 9 by speedboat.
Arrive at our spacious boat, MV Koon 9. Dive No. 1 at Koh Bon or Koh Tachai (diving time: 50 minutes)
Enjoy a great lunch on MV Koon 9 and a relaxing time.
Dive No. 2 at Koh Bon or Koh Tachai (dive time: 50 minutes)
Depart from MV Koon 9 by speedboat
Arrive at Seastar Pier (Tub-lamu Pier).and transfer back to your hotel.
More Information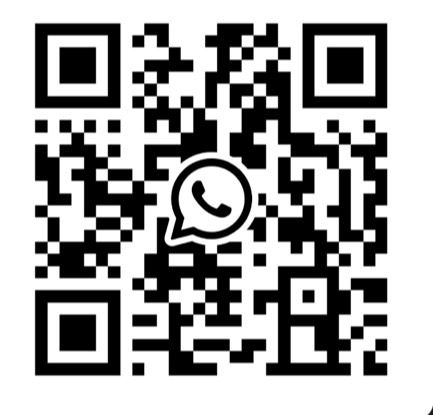 Itinerary
TIME
Pick up from hotels or meet at Sea Sky Travel Pier
Departure from Sea Sky Travel Pier by speed boat
First dive (Diving time 50 minutes)
Lunch Buffet at Surin Island and relaxing time
Second dive (Diving time 50 minutes)
Arrive at the Sea Sky Travel Pier and transfer back to hotel