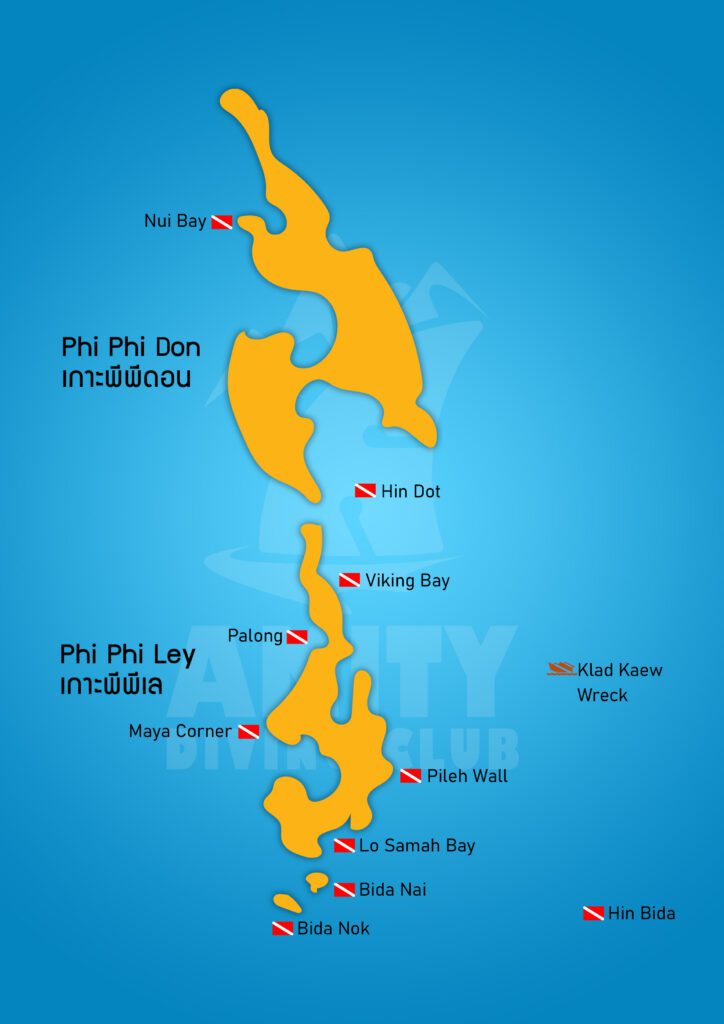 Viking bay
Named after 'Viking cave', a huge cave found above the surface on the island. Viking is one of those dive sites that has a lot of little surprises.
Viking is home to a coral nursery and artificial reef, a project started in 2006, growing coral on the nursery. When it is big enough it is transplanted onto the artificial reef made up of giant concrete blocks stacked into pyramid shapes.
While growing coral is not a fast process, parts of the artificial reef are already teeming with life. It is surrounded by schools of snappers and filled with tiny glass fish. Expect Pufferfish, Lionfish, Scorpionfish, Anemonefish and so much more. You can also expect the occasional visit from a Hawksbill Turtle and Banded Sea Snake. Because of the large structures, you can stay shallow or go deeper and always have lots to see!
Hin Bida
Hin Bida is a partially submerged pinnacle located in the open sea about 3.5 miles southeast of Koh Bida Nok / Nai. The rock barely breaks the surface during low tide and disappears underwater at high tide. The sloping reef is covered by healthy hard and soft corals with abundant marine life. On the sandy flat bottom around the pinnacle is possible to spot Leopard Sharks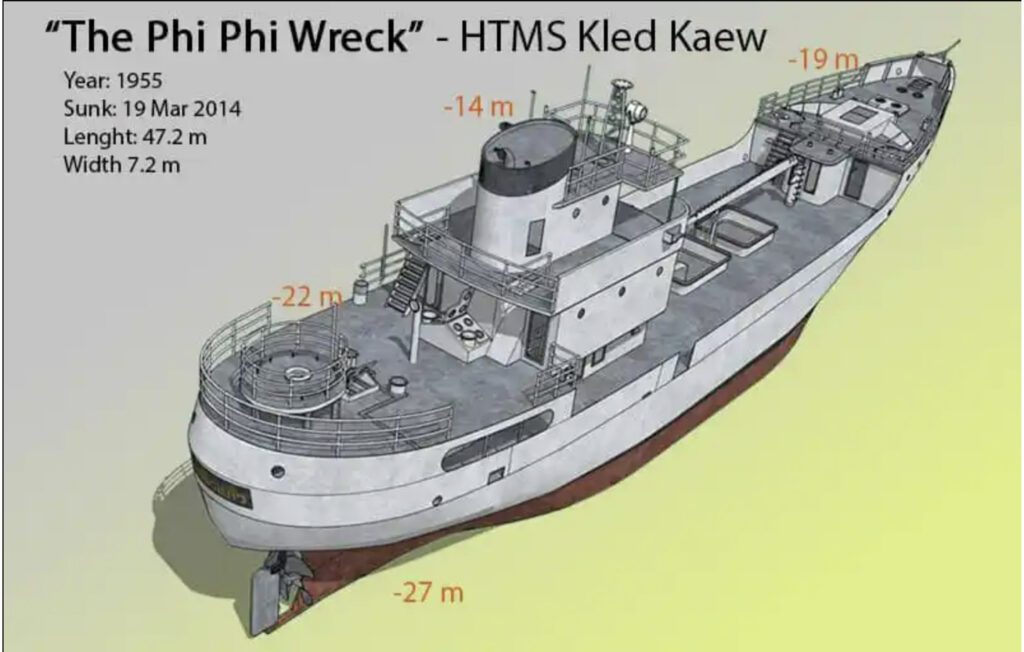 HTMS Klad Kaew (The Phi Phi Wreck)
HTMS Klad Kaew, AKA "The Phi Phi Wreck", was originally a Norwegian Navy Ship built in 1955 and later donated to the Royal Thai Navy. In 2014, at the end of its life, the Thai government decided to sink it right off the east coast of Phi Phi Leh Island to make a new dive site. The operation definitely succeeded, as it's now one of the best Phi Phi Islands dive sites.
Pileh Wall
You may or may not have heard of Pileh Lagoon, but even if you haven't you've almost definitely seen a photo or two, being one of the most photogenic places around the islands. Although there are no dive sites in the lagoon, you might be lucky enough to spend your surface interval here.
Just outside the lagoon is Pileh Wall, a beautiful dive site filled with diversity and colour. A large part of the site is, you guessed it, a wall dive. You'll reach around 18 metres at the deepest point. The wall is covered with beautiful soft corals and everywhere you look it is teeming with colourful reef fish.
Look for Hawksbill Turtles here, make sure to keep looking up and down the wall so you don't miss them! The way the light hits the wall will leave you in awe, whether you cruise along shallow or go deeper. A number of leopard shark sightings have come from this site so always keep an eye on the sand beneath.
The wall eventually flattens out and can give you a gradual ascent getting closer to the island. Expect to find Moray Eels here, and look for Banded Sea Snakes and the Broadclub Cuttlefish.
Maya Corner
Though the beach has been closed since 2018 undergoing a coral rehabilitation project, the bay remains open for boat tours, snorkelling, and most importantly… diving.
Maya corner runs along the North wall of the bay near the entrance. Divers can expect a diversity of landscapes and marine life here with perfect conditions for all levels of divers. Starting at the side nearest Maya beach the more advanced divers might like to explore a handful of swim throughs. Head deeper to the bottom of the reef to find some dramatic rock formations and another swim through surrounded by tiny glass fish and beautiful soft corals.
Stay shallow and swim between pinnacles and valleys. Keep an eye out for a Hawksbill Turtle, Blacktip Reef Sharks and also even recently, a Whale Shark!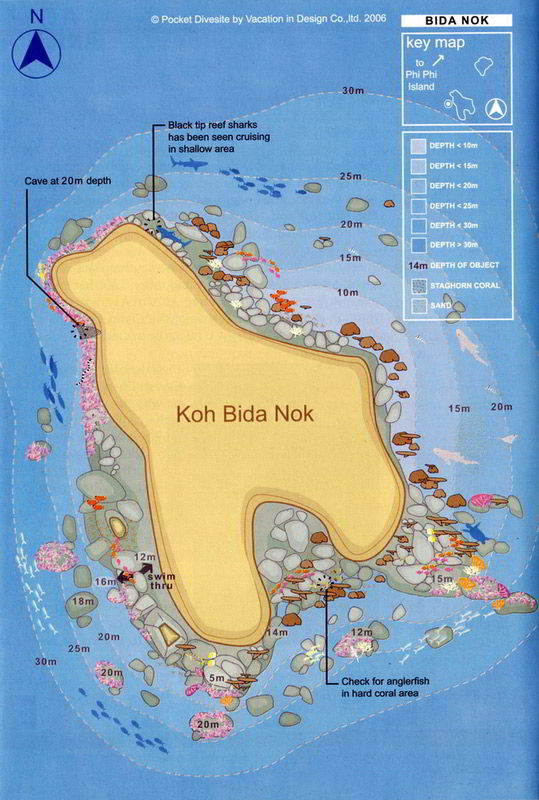 Ko Bida Nok, Phi Phi Island Diving
Ko Bida Nok dive site
Phi Phi Islands Diving – Koh Bida Nok has a remarkably dramatic underwater topography and is characterised by steep precipices, caves, swim throughs, and underwater crags. It is no wonder that Ko Bida Nok and its sister island, Ko Bida Nai, are two of the most popular dive sites in the Phi Phi Islands!
There is a small underwater bay on the southern side of the island made up of reef slopes and rocky floors that start at 6 to 8 metres ( 26 feet) and end in a sandy bottom at 20 metres (66 feet). A vertical swim through on the southwest side of the island, beautifully illuminated by surface light, is not to be missed.
Divers with a cave specialty may also want to check out a narrow cave on the northern side of the island. The cave's entrance is 20 metres (66 feet) away and the wall is covered with colourful and soft corals and gorgonians.
The outcrops of various sizes are scattered along the west coast, sloping down to depths of 26–30 metres (100 feet), while the east coast is a reef slope with a mixture of hard and soft corals and small outcrops.
Leopard and black-tipped reef sharks may sometimes be found along the reef line. Kuhl's stingrays are common in the area, and look out for small bamboo sharks hiding in the cracks.
Look to the blue beyond the reef and you may also see schools of pickled barracuda. Along the reef, you will also find a variety of colourful reef fish, such as puffer fish, porcupine fish, and lionfish. Macro lovers should also keep a sharp lookout for ornate ghost pipefish, seahorses, and nudibranchs.
Diving in the Phi Phi Islands-Koh Bida Nai
Ko Bida Nai dive site:
Ko Bida Nai has an amazing topography of underwater crevices, huge boulders, and a field of staghorn reef.
Stretched across the south and west coasts of the island is a gradual reef slope that starts at a depth of 6 to 8 metres (26 feet) and is made up of hard corals like pore corals, table corals, and staghorn corals. There are also some big boulders and a swim through on the southern side.
The eastern side of the island is a big sand slope with fields of staghorn coral. Scuba divers can find leopard sharks snoozing in the sand, or swim out to the large pinnacle beyond the reef to encounter the big schools of trevally, barracuda, and fusiliers. The top part of the pinnacle is around 18 metres deep (60 feet) and goes to a depth of around 35–38 metres (125 feet).
The topography on the northern side of the island consists mostly of stunning crags and cliffs, with walls dropping vertically to a depth of 28–30 metres (100 feet) before hitting the sandy bottom. In this section, there are soft corals, sea fans, and lots of huge barrel sponges.
Leopard sharks are quite common here, especially on the eastern side of Ko Bida Nai. Black tip reef sharks have been known to make appearances in the area. Divers may also spot and dive with sea turtles. Schools of barracuda and trevally are often sighted near the east pinnacle, as are snappers and mackerel. Scuba divers may also see cuttlefish, honeycomb moray eels, sea snakes, and Kuhl's stingrays. Macro species such as ghost pipefish, nudibranchs, and porcelain crabs are also frequently sighted.