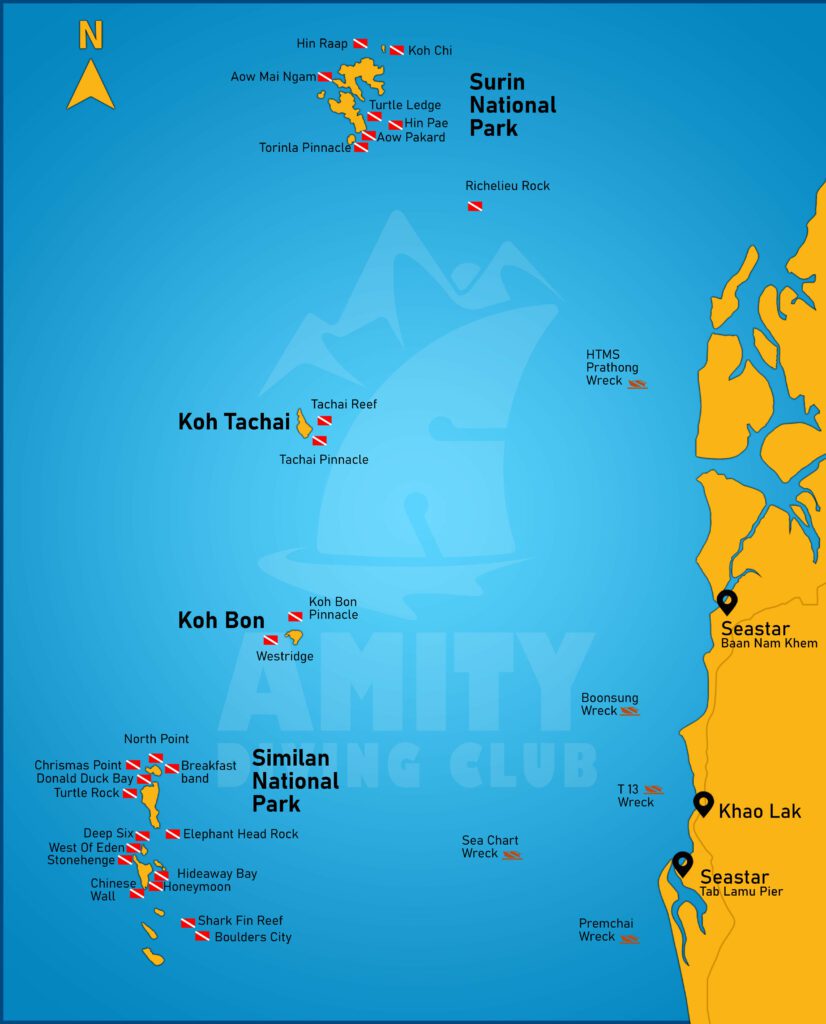 North Andaman
There should not be questions asked about the real beauty of the Andaman Sea. Cruising and diving through the North Andaman Ocean, you would experience the true color of North Andaman from Phuket to Myanmar. The last destination in North Andaman is Richelieu Rock. But before that, you may stop and take in the fresh air at Similan Islands, Surin Island, Koh Bon, and Koh Tachai. The North Andaman is not just beautiful but colorful, with soft and hard corals. Let's make it short: North Andaman is the place where heaven on earth meets heaven underwater.
SIMILAN ISLANDS DIVE SITE INFORMATION
The Similan Islands National Marine Park of Thailand has nine uninhabited tropical islands in the Andaman Sea. Divers will find over 20 first-class scuba diving sites in one of the world's top diving areas. Located 65 kilometers off the coast of Phang Nga province, you will find the most diverse diving in Thailand. Famous for their white sand beaches, fringed by extensive coral reefs in crystal-clear blue water with a rich variety of fish life, the Similan Islands are covered by tropical rainforest with large granite boulders creating unusual rock formations. Underwater, the granite boulders continue, now covered with hard and soft corals, offering numerous swim-throughs, gullies, and canyons.
SIMILAN ISLANDS: Honeymoon
Located to the east of island No. 4 (Koh Miang), this dive site is suitable for all levels of certified divers. The topography of this site is a gentle sloping reef that consists of hard corals and bombings scattered over the sand, and the average depth is between 5 and 20 meters. As for marine life you are likely to encounter, you will see Moorish idols, angel fish, giant moray eels, lionfish, and many more that the Similans have to offer. Perfect for a night dive due to the shallow reef, you are likely to see squid, cuttlefish, decorator crabs, and reef crabs foraging in holes for their next meal.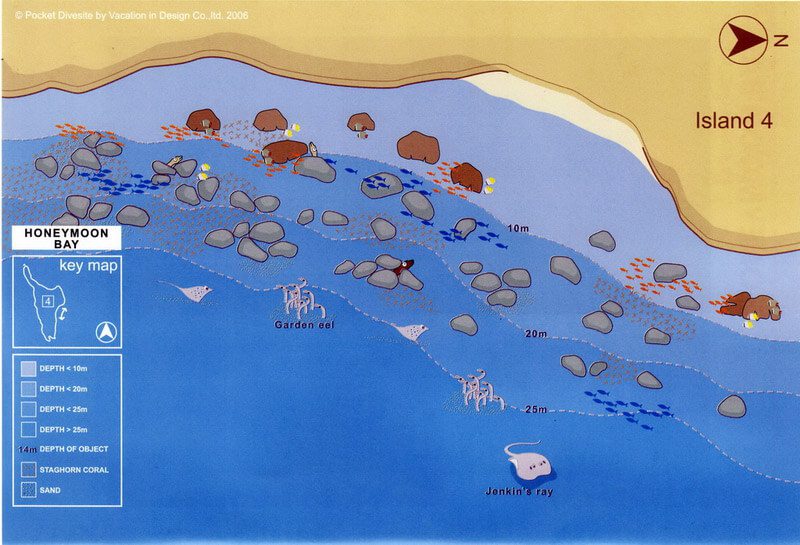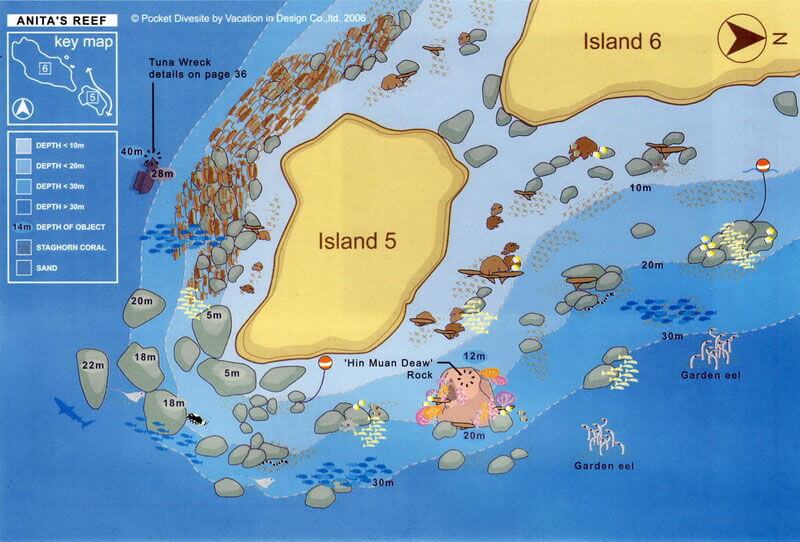 SIMILAN ISLANDS: Hideaway Bay (Monuments,Zodiac Statues)
Is a paradise for the keen photographer. The reef is spread across two islands; it starts on the southeast island of number 6, and it runs down south to island number 5. This dive site is mainly reef slopes, starting at 5 meters and descending to roughly 30 meters. The site contains a series of Thai Zodiac Statues, some monuments for the Tsunami, and a couple of mermaid statues. It is a great late afternoon or night dive. It can produce some nice marine life, including ghost pipefish and Napoleon wrasse. A nice dive for all levels of divers.It is a great night dive, producing plenty of shrimp, octopus, and assorted crabs. It is a very popular scuba diving site, and you will often see plenty of liveaboard boats here, especially in the late afternoon.
SIMILAN ISLANDS: West of Eden
West of Eden is situated on the west side of Ko Pa- Yu, AKA Island 7. This is a typical western Similan Island dive site comprising giant granite boulders.Although it is not as beautiful as its Island 7 eastern counterpart, West of Eden is a very enjoyable dive. It is a great exploration dive with some nice canyons, giant sea fans, and soft corals.You should be able to find plenty of lobsters on this site amongst other interesting things, including red-fire gobies, cowrie shells, and stonefish.The boulders are definitely the highlight, and traveling to the far north or south will produce rubble, so take your time and enjoy these massive creations. Keep an ear out for the creaking boulders; it's quite an eerie sound when diving.Depth range: 12–35 meters. Visibility is good, and it is a great dive for all levels of divers, although check with the captain first in relation to currents.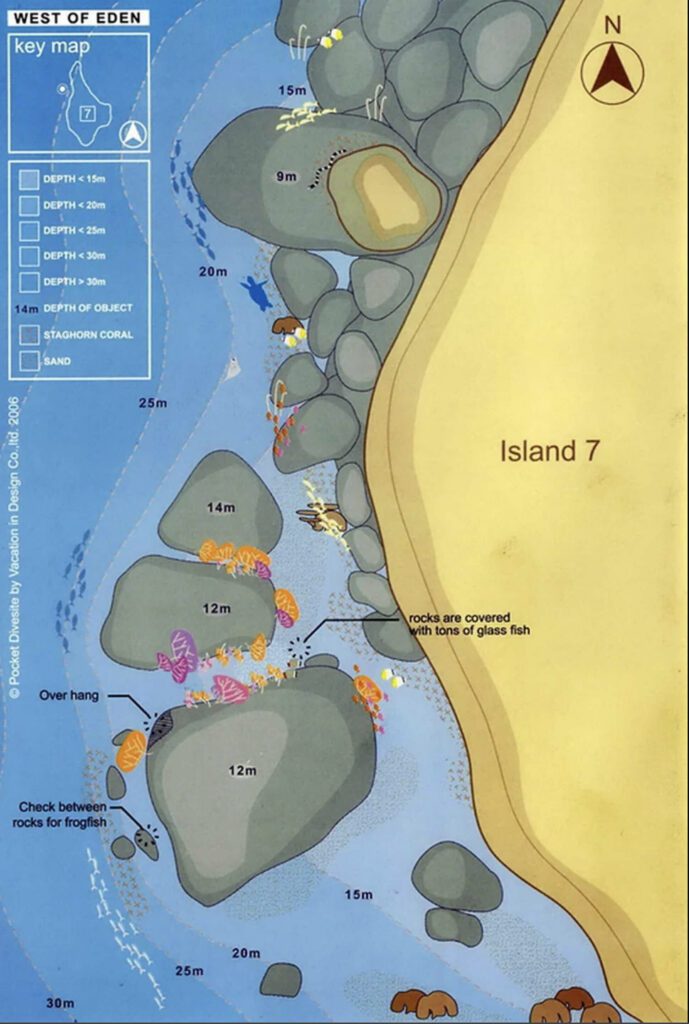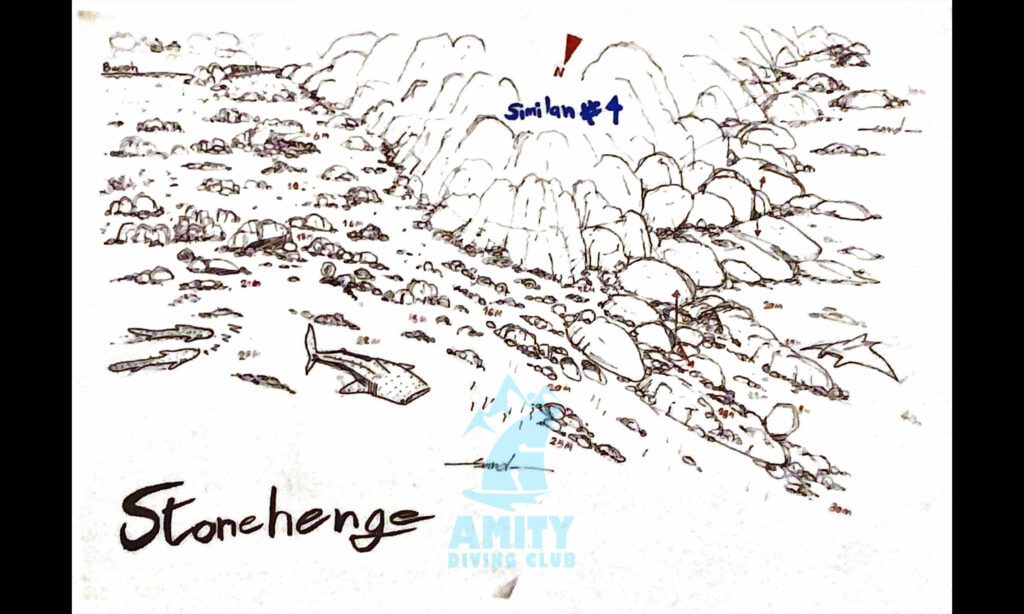 SIMILAN ISLANDS: Stonehenge
Stonehenge is situated at the northern tip of Island 4. There are mixed reports about this site. A large boulder site with and flanked by hard it can be quite difficult when the currents are up, but on a good day it is a very nice site. There are some large travails around and keep an eye out for the Triggerfish here, they seem to be extra angry.
SIMILAN ISLANDS – Elephant Head Rock
It is probably the most famous dive site and the biggest pinnacle in the Similans Islands, in the shape of an elephant's head, hence the name Elephant Head Rock. The dive site is located between island 7 (Koh Payu) and island 8 (Koh Similan). With three large rocks breaking the surface, these granite boulders run down to over 50 meters. This is an exciting dive. The way the boulders are lying on top of each other has created an intricate web of tunnels and swim-throughs and fantastic channels, causing Giant Gorgonian Sea Fans to attach themselves to the walls. Coming out of the tunnels, head to deeper water and stop at the impressively large overhangs where divers may see Black Tip and White Tip Reef sharks patrolling outside the boulders or resting on the bottom at this depth. Check your NDLs. Please remember, as this dive site is deep, only experienced certified divers are advised to dive at this site. As you make your way to shallower depths, you will experience schools of Great Barracuda swimming. There are also many varieties of macro life that are hidden among soft corals that have attached themselves to the boulders. Due to its strong upwelling currents, remember to stay close to the rocks to avoid getting blown away.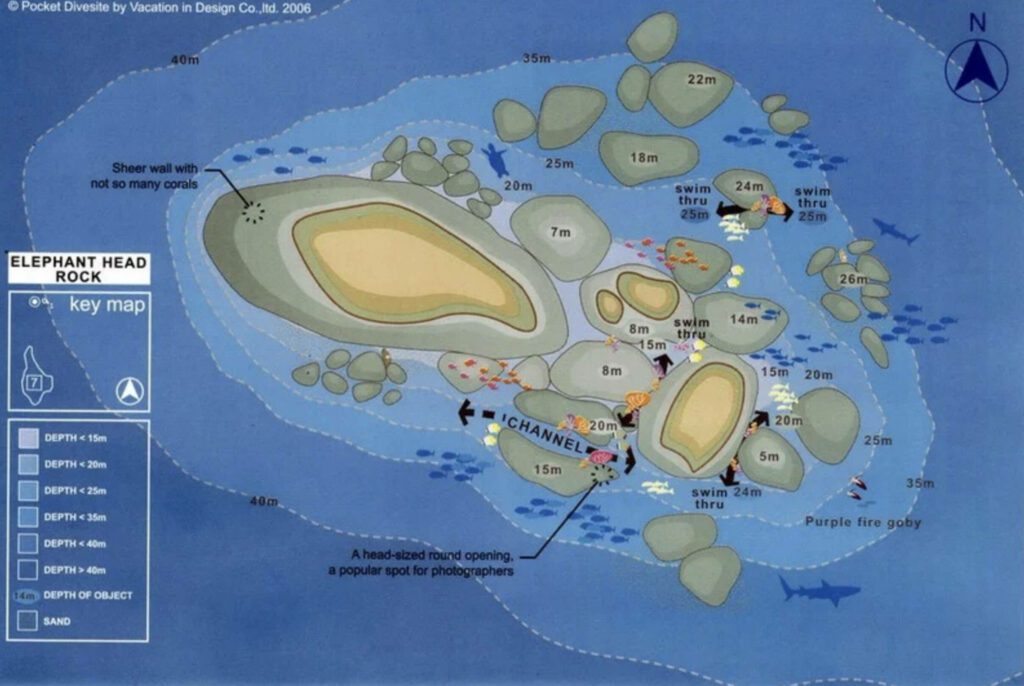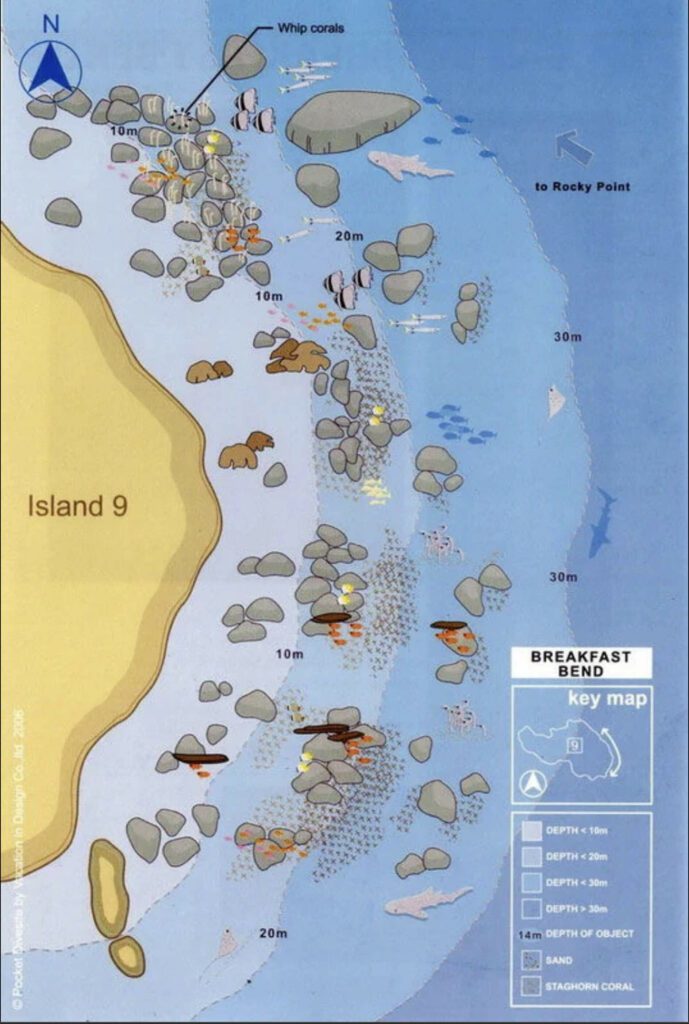 SIMILAN ISLANDS – Breakfast Bend (Three trees)
The Three Trees dive site is situated on the northeast side of Island 9 of the Similan Island group. The dive site is identified by three distinctive trees (pictured above). The site is rich with marine life. There is a nice, easy start to the site at about 8m, which gradually slopes down to around a sandy 18m. Continue on to 20 meters.You will find boulder formations that go down to 30 meters. As usual for the area, you will find rays and garden eels in the sand. On occasion, if you are lucky, you can find leopard sharks around the boulders. A variety of shrimp are also found in the rocky section. Long-finned batfish are common; hence, sometimes the site is also known as Batfish Bend. Keep your eyes out for turtles in the area as well.
It is a popular dive site for liveaboard boats, especially late in the season when the weather is coming from the west.
SIMILAN ISLANDS – North Point (Rocky Point)
A dramatic underwater scenery of large boulders with canyons and swimming through As you descend down the line, pass the tall fin batfish, and head through the tunnels, keep your eyes open for a pair of Napoleon wrasse. In between the large canyons grow large gorgonian sea fans with excellent soft corals hiding harlequin ghost pipe fish, but a look out into the blue can be rewarding with frequent visits from the graceful manta ray passing over the rear.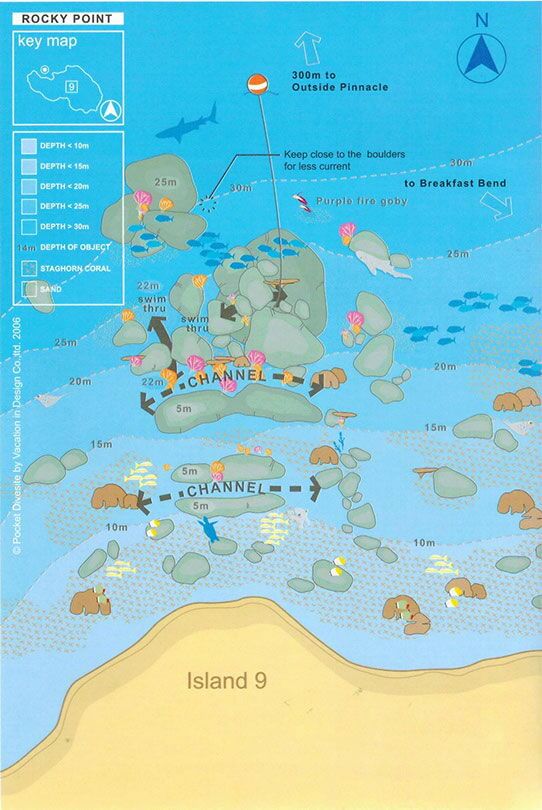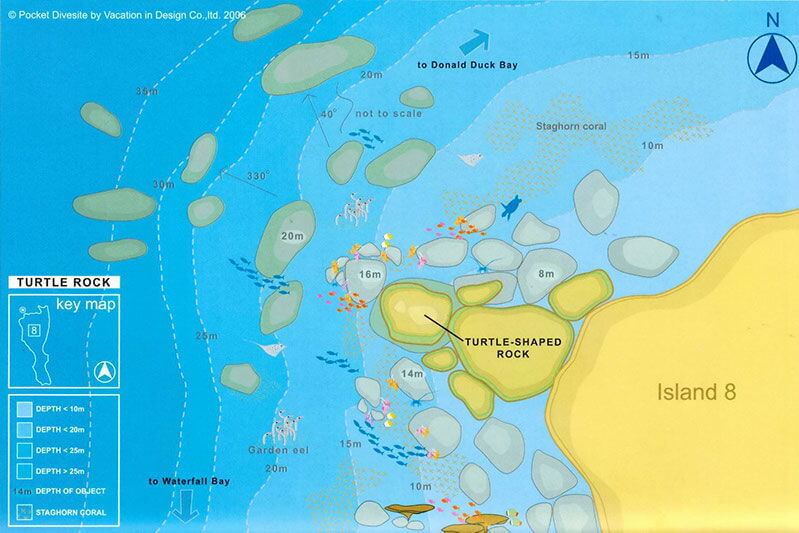 SIMILAN ISLANDS – Turtle Rock
Turtle Rock is situated west of Donald Duck Bay on Island 7 and is named after the turtle-shaped rock that marks the divesite. This is a great afternoon dive site and consists of a series of shallow boulders and staghorn coral. It has some fun swim-throughs and, coincidentally, an abundance of turtles. Both ghost pipe fish and nudibranchs are here, as are the typical reef fish, including sweetlips, groupers, and angelfish. A very enjoyable dive site.
SIMILAN ISLANDS: Koh Bon
Lying 12 nautical miles south of Koh Tachai Island, the dive site is located around 150 meters north-west of the island and has no buoy line, so location is by GPS. When the captain signals, it's time to jump into the blue and descend to the pinnacles. The top is around 18 meters and continues to run down to over 50 meters to the sand bottom, where the docile leopard shark sleeps while white-tip reef sharks patrol the reef in search of a meal.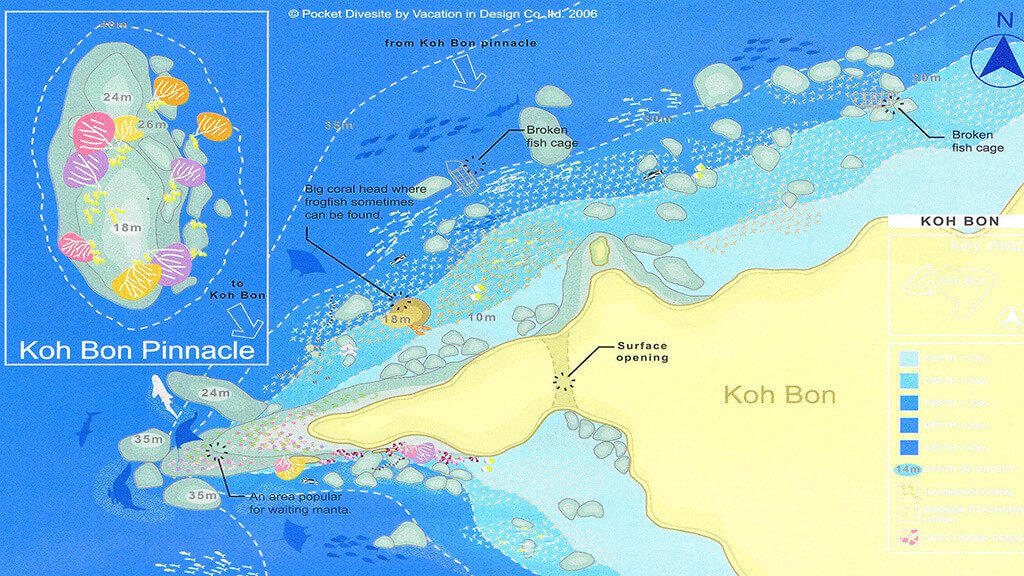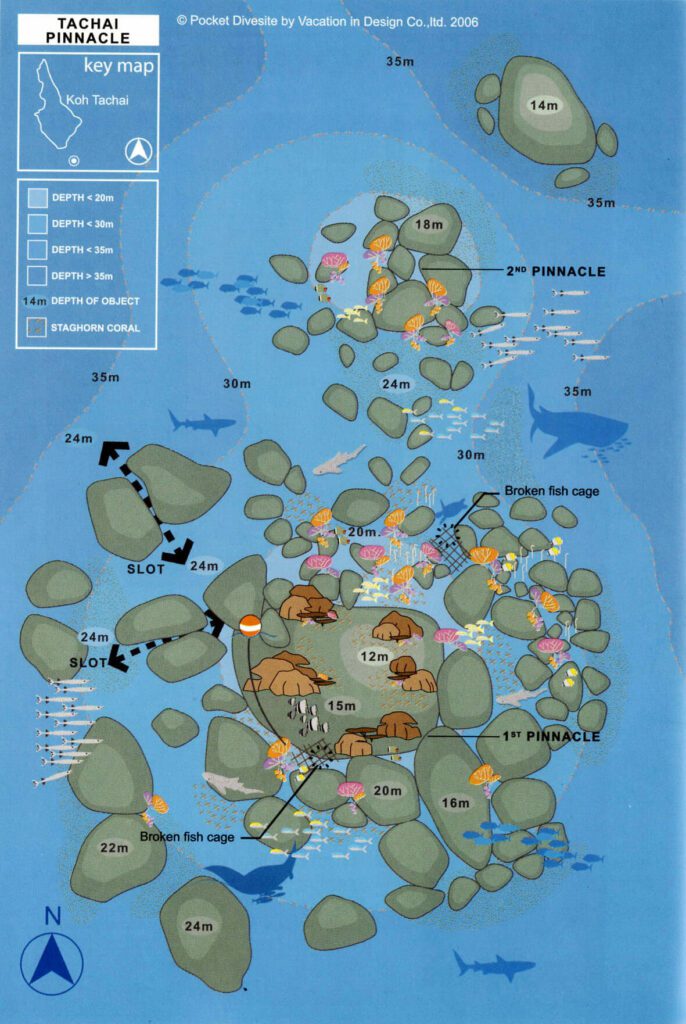 SIMILAN ISLANDS: Tachai Pinnacle
The southern pinnacle is bigger at a depth of 12m. It is a dome shape surrounded by large boulders, with the deepest area on the southern side at 45m. On the west side, you'll find large boulders with swim-throughs. In the east, you'll find stacks of small rocks covered in hard corals and sea whips. Colorful soft corals and sea fans dominate the northern area. This huge pinnacle links to the smaller one with a sand patch. In addition to the usual reef fish, you'll encounter reef sharks, leopard sharks, manta rays, and whale sharks.
SIMILAN ISLANDS: Tachai Reef
The reef stretches through the eastern part of the island, going from the northeast to the southwest. Hard corals cover almost the entire area, most of which are staghorn, pore, and brain corals. Divers regularly see leopard sharks in the shallow area. Large stingrays are found too. General reef fish include pufferfish, parrotfish, lionfish, and moray eels. Cuttlefish, nudibranchs, and flatworms are also common. In the shallowest section, you will encounter schools of barracuda and golden fusiliers.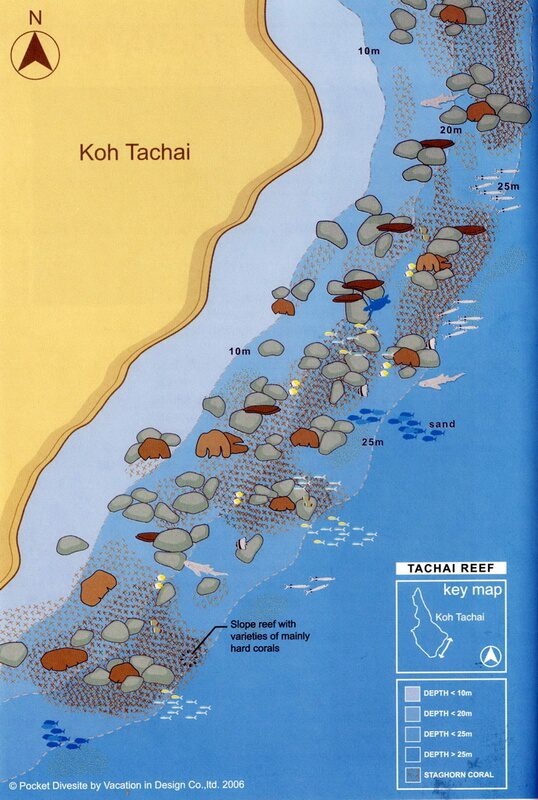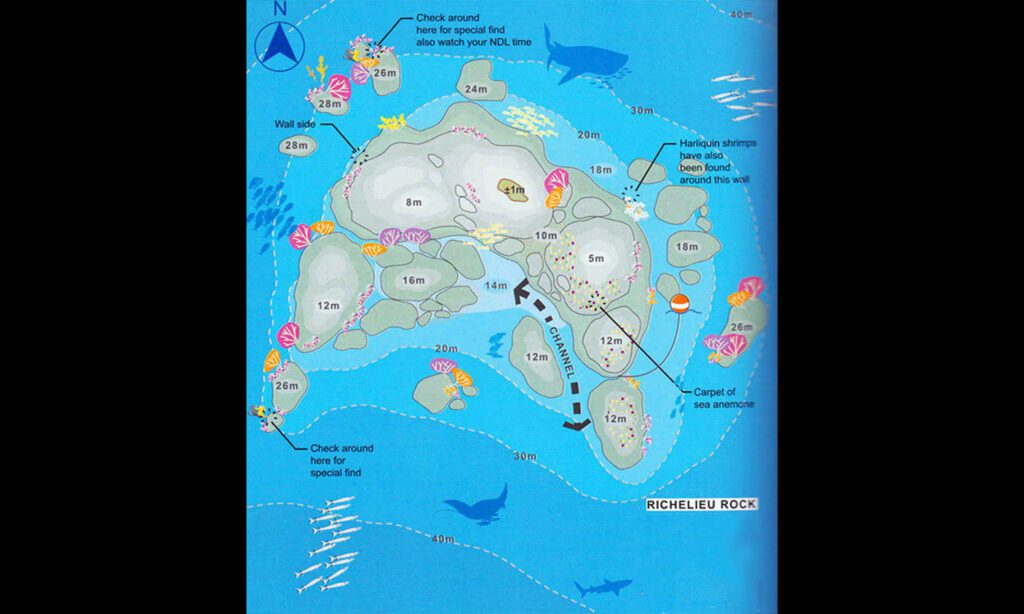 SURIN ISLANDS: Richelieu Rock
Richelieu Rock is a massive underwater rock formation that holds an important diversity of marine life, from small seahorses to giant whale sharks. You will almost certainly find big schools of trevally and barracuda and other schooling fish such as snappers and fusiliers. The very top of the rock is just visible at low tide, but submerged at high tide. Below the surface, Richelieu Rock is approximately horseshoe shaped, consisting of several groups of rocks, pinnacles, overhangs, and small caves. It drops most steeply on the north and west sides, while the south side slopes more gently on the "inside" of the horseshoe. The maximum depth is about 35 meters, but it can be dived mostly at 20–28 meters.
This is an amazing dive site, which is a true paradise for photographers and divers. You will make 2 dives at Richelieu Rock, and between dives, after the 1st dive, the boat will travel. We go to lunch Relax in Surin National Marine Park for about an hour and the boat will return for a second dive, which will give you plenty of time to explore this massive rock formation. You can dive as an Open Water there, but be aware of a bit more current. It's nice if you have either the deep dive (30m) or Advanced certification so you can explore the full depth of the dive site.