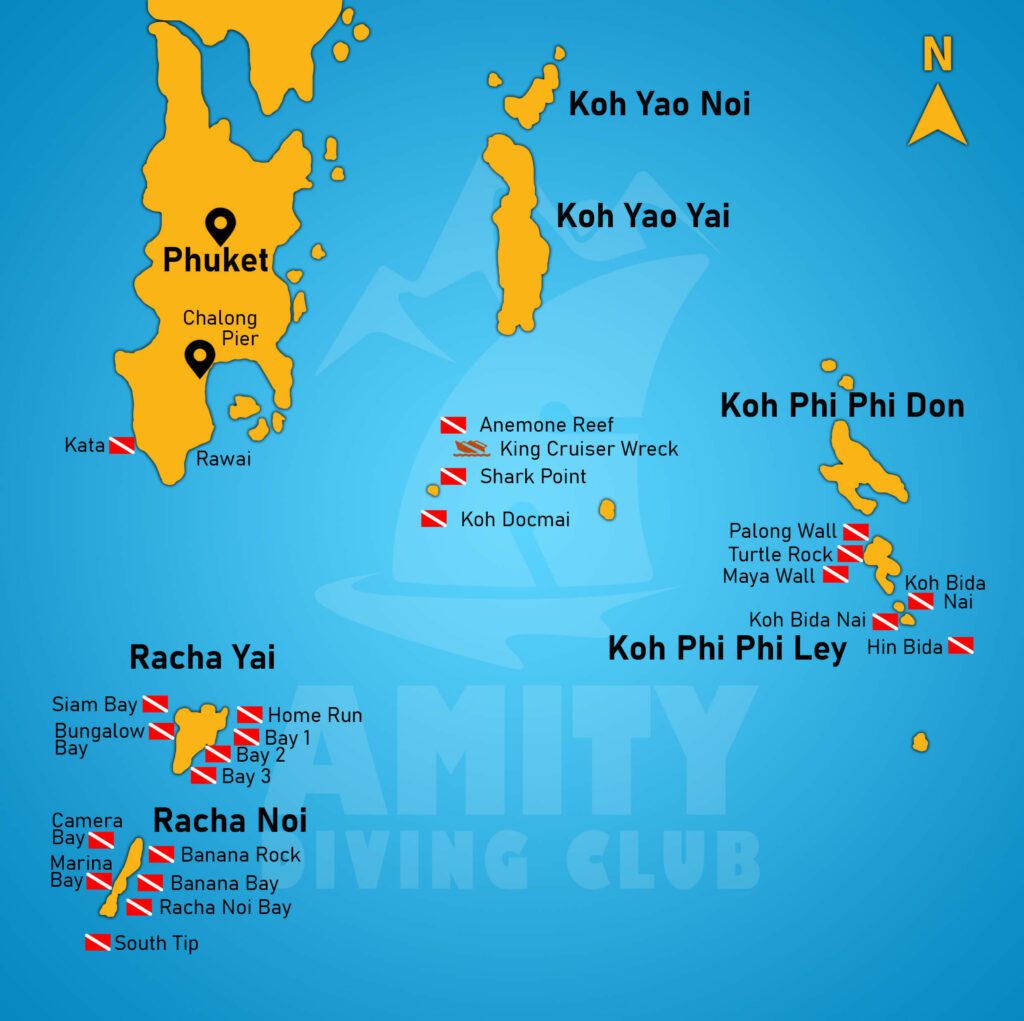 Racha Yai Island
Not everyone spells the Thai names of the islands the same way. Racha is often spelled Rajah and Raya. When reading about local dive-sites, it helps to learn a few Thai words. Ao means beach, Ko (or Koh) means island, Hin means rock, Yai means large, and Noi means small.
Racha Yai offers some of the best local year around dive-sites but the visibility varies as to the season. On the north end of the island are two beautiful little bays famous for their deep clear water and colorful coral formations. Both of them have almost swimming pool features as they gradually drop to a depth of 12 meters/40 feet onto a sandy seabed, providing ample opportunities for both snorkeling and scuba diving. The best diving is off the east coast where the current allows a gentle drift dive along a sloping rocky face that is covered with an amazing array of hard corals and the nutrient rich water draws large schools of tropical fish.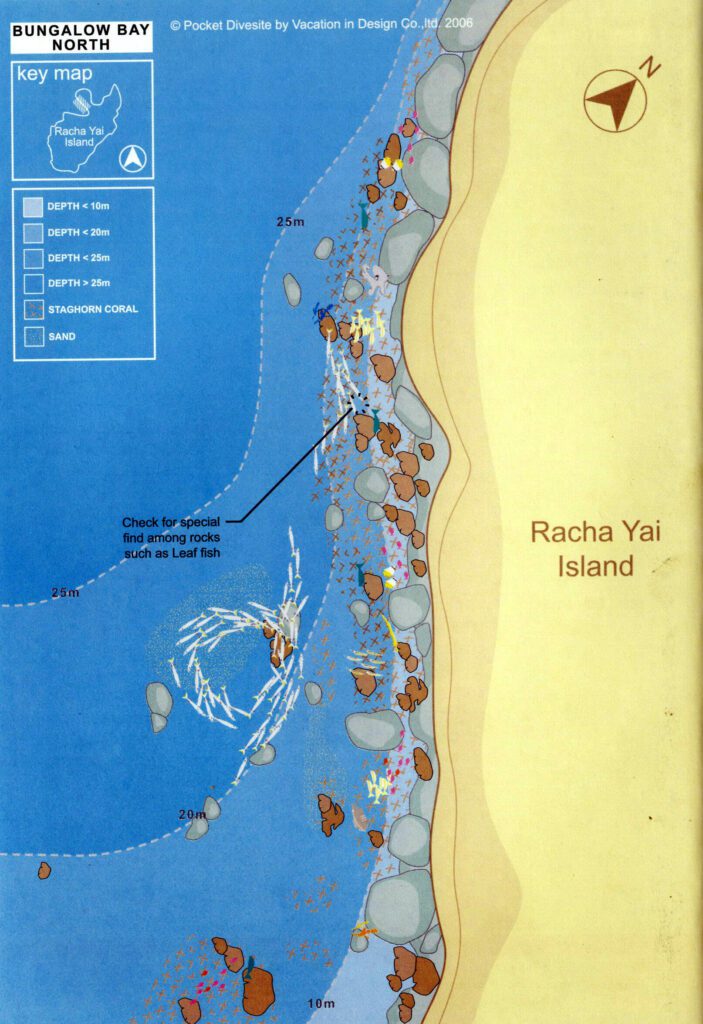 BUNGALOW BAY DIVE SITE :
Bungalow Bay is characterised by a deep curve and both sides are excellent for scuba diving or for scuba training dives. The northern side of the bay is a reef slope with staghorn corals and small rock outcrops ranging from 5 to 22m of depth, ends with a sandy bottom. The southern side of the bay is covered with staghorn and pore corals, and has several gigantic rocks along the edge of the island.
MARINE LIFE :
Reef fish such as parrot fish, snapper, grouper, angelfish, butterfly fish and basslets are common. At the shallow waters the unusual shrimpfish are sometimes found in schools. Divers may also find some of the rarer creatures such as leaf fish, razor fish and ghost pipefish and whale sharks. Beginners will enjoy with sea turtles and giant morays.
SIAM BAY DIVE SITE :
Siam Bay lies to the north of Racha Yai Island with an average depth of 12-18m. The corals scattered around the bay are mostly hard coral, and some big pinnacles can be seen along the island edge on the east side of the island. This is an ideal site for beginners.
MARINE LIFE :
Parrotfish, butterflyfish and basslets are common. Cuttlefish and Kuhl's stingrays are often found at the sandy bottom. At night, Siam bay is a heaven for macro lovers. Small crabs and shrimps can often be found on top of corals, in crevices and inside feather stars.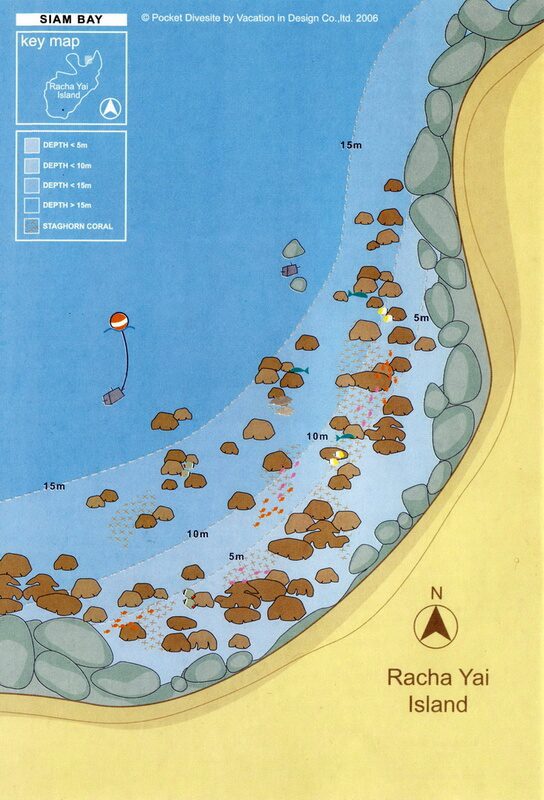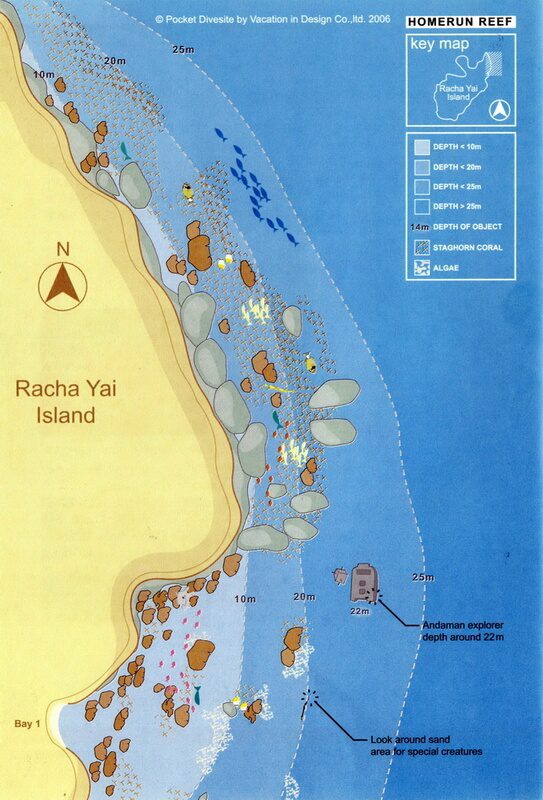 Home Run Reef Dive Site
Most of the reef is covered with hard corals like staghorn coral, branch coral, and pore coral with rocks scattered in-between. The steepest slope is at a depth of 12-15m, with the rest ranging from 15-25m and ending in a gently sloping sandy bottom. Due to the current conditions, a one-way dive is more practical and likely more enjoyable. This is the perfect dive site for drift divers.
MARINE LIFE :
Reef fish such as parrotfish, butterflyfish and basslets are common. Comet fishes are sometimes found hiding in cavities or in the space between branches of staghorn coral. Trumpet and cornet fish often camouflage themselves and stay close to the staghorn coral. Great Barracuda are also common sightings here. Look carefully under the rock and you can spot reef octopus and sea snakes.
Bay 1-2 Dive Site (a.k.a. Staghorn reef)
Bay 1 has a very small beach, which is easily missed. There are pore corals heads scattered along the entire stretch of this bay, occasionally interrupted by a patch of staghorn coral. The reef starts from a depth of 5m and goes to as deep as 20m before hitting the sandy bottom. The largest beach is located at Bay 2. While it also has an abundance of coral heads and branch corals – hence it's name, Staghorn Reef. The reef starts from a depth of 12m and slopes down to a depth of 30m.
MARINE LIFE :
Reef fish such as parrot fish, snapper, grouper, angelfish, butterfly fish and basslets are common. Divers may get to see trumpet fish swimming by the side of groupers. Advanced divers can enjoy with wreck diving at 25m where they can spot giant morays and batfishes.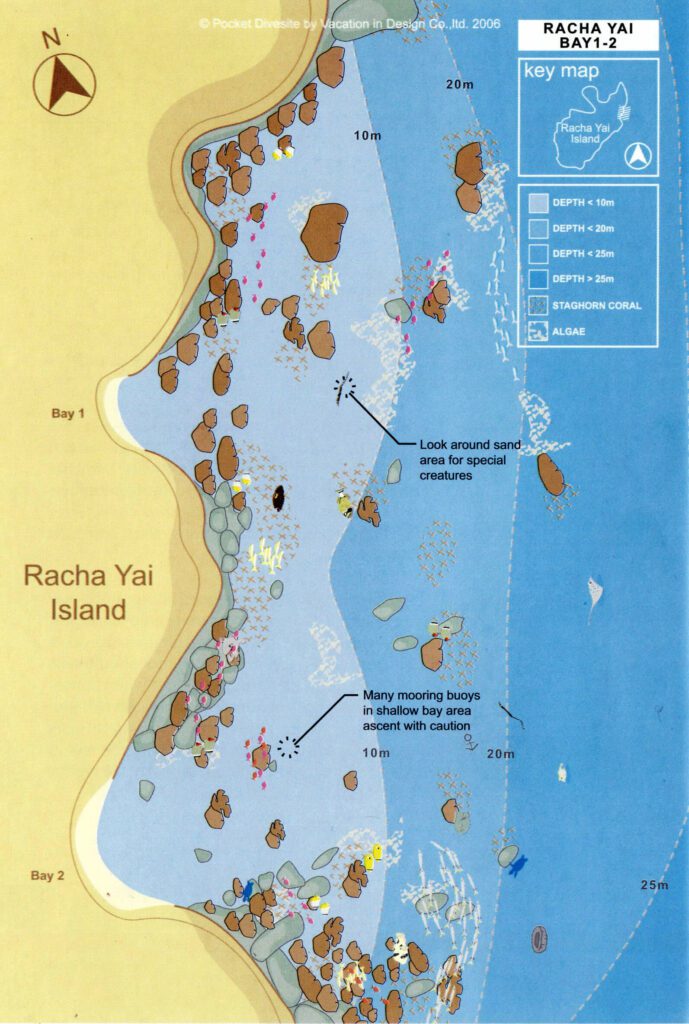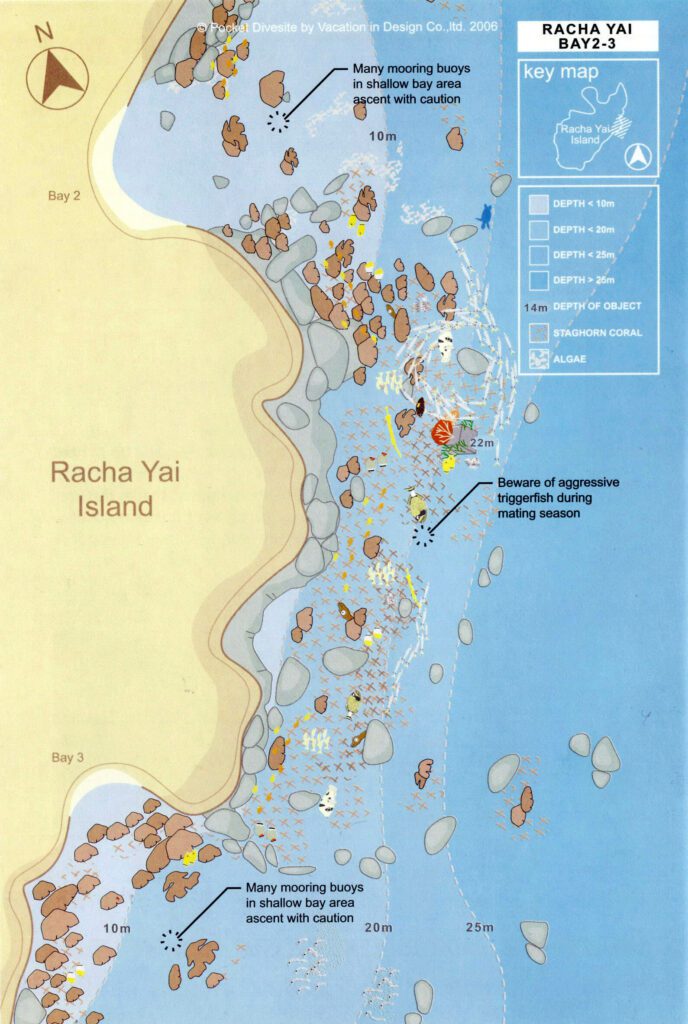 Bay 3 Dive Site (a.k.a. Lucy's reef)
On bay 3 – Lucy's Reef, consists mainly of rocks and pore corals, and is separated by a rock-ridged border at the south end of the reef. The sudden change from hard coral and rocky bottoms to sandy bottom is a good indication that you have entered Bay 3. In Fact, apart from brief smattering of pore corals and some coral heads in the shallower waters, Bay 3 has mostly sandy bottom.
MARINE LIFE :
We are still on the same island, so, reef fish such as parrot fish, snapper, grouper, angelfish, butterfly fish and basslets are common. Cornet fish are also spotted regularly. Box fishes and blue spotted box fish are usual for this area. Boxer shrimp and dancing shrimps can be found inside crevices or even inside pore corals. Take a closer look and you might also see ghost pipefish hiding among the fronds.
Bay 4 and 5 Dive Site (a.k.a. Waterfall wall)
Bay 4&5 – Waterfall Wall, returns to the reefs of hard coral. It has more slope than Bay 3 and is also formed by a wider variety of coral. Waterfall Wall is a miniature version of Staghorn reef, but also with more variety of corals such as anemones. Be especially careful when you dive here, as it is a complex current – the current can suddenly switch the direction around the middle of the reef!
MARINE LIFE :
The usual reef fish such as parrot fish, snapper, grouper, angelfish, butterfly are common. A rare thornback boxfish, as well as an impressive seamoth, have been spotted at the sandy bottom. Away from the reef, schools of yellowtail barracuda are often seen around. Big eyed trevally are also found in big school near the reef. Close to the reef in shallow water sometimes divers can observe reef sharks.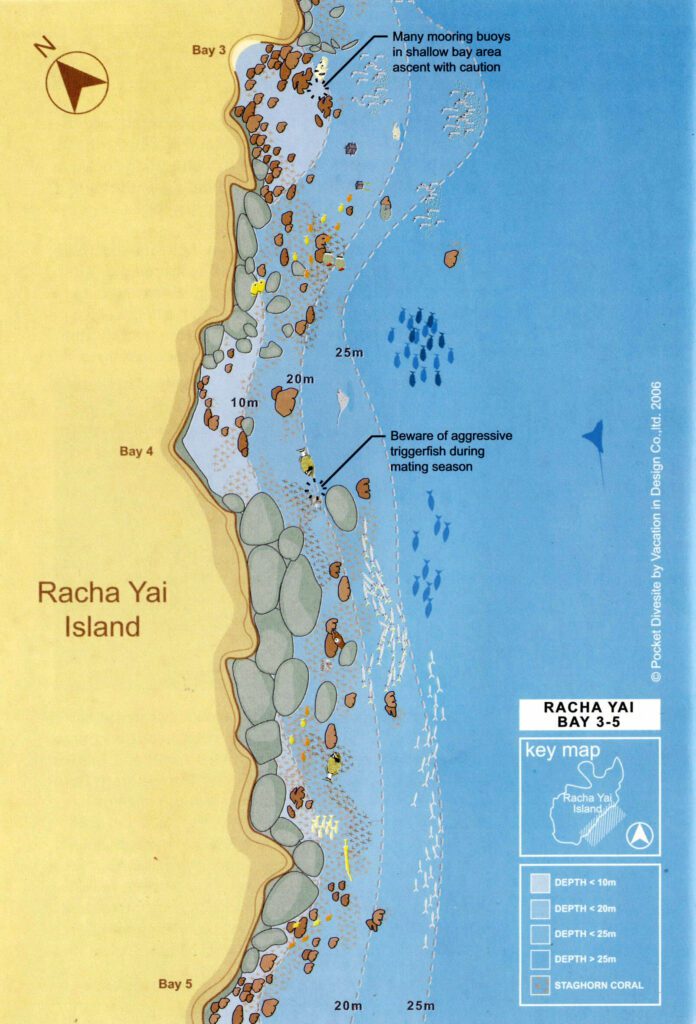 Racha Noi Island
Racha Noi is the more isolated of the two islands and is a popular dive-site for more experienced divers, as the depths are generally greater and the currents frequently stronger than at its sister island to the North. You will encounter huge underwater boulders that offer a good chance to see manta rays and whale sharks. The northern tip of the island offers an opportunity for a good multilevel dive along a large pinnacle where spotting larger marine life like reef sharks and stingrays is common.
Off the southern point is a nice drift dive along some spectacular scenery as you find yourself on top of a large rock formation surrounded by deep water. Racha Noi offers many opportunities for an enjoyable and rewarding deep-dive but due to the potential for strong currents here many of the dive shops will only bring divers here who have an advanced certification.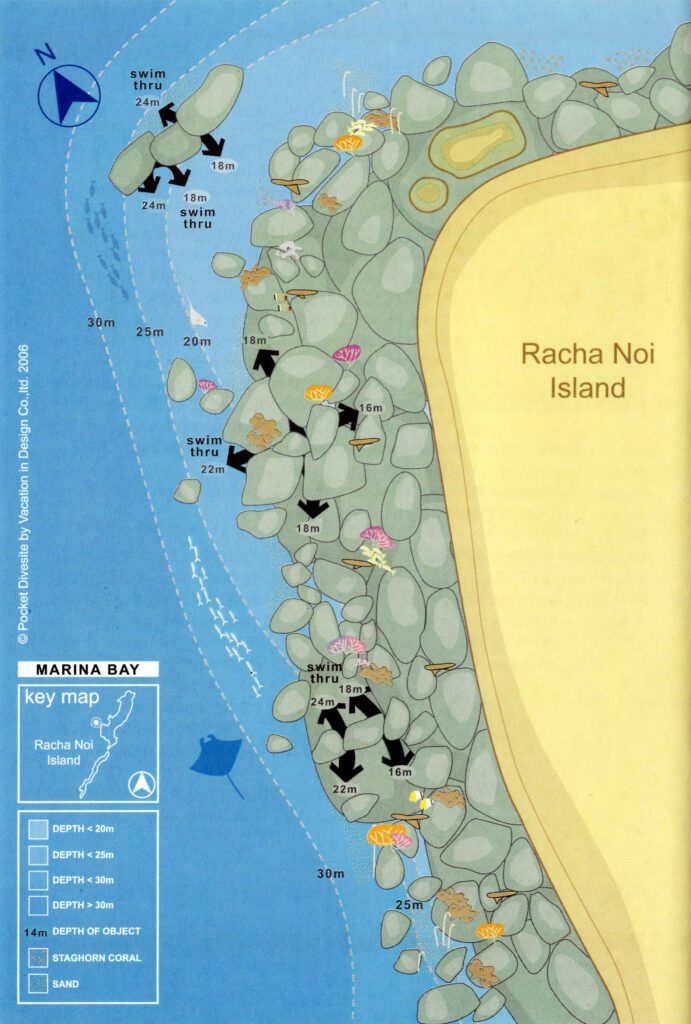 Marina Rock Dive Site
Formed from granite rock, the bay in the lid west of Racha Noi Island is carpeted with leather corals and a mixture of sea fans, sea whips, fire corals and hard corals such as pore corals. The dive start from the sandy bottom at 18m depth or from the rocky reef next to south of the bay where you can see huge rocks which slope down to 35-40m. There are many swim-through at this site waiting to be explored.
MARINE LIFE :
Reef fish such as parrot fish, snapper, angelfish, butterfly fish and neon fusiliers are common. In the sandy bottom of the bay, you may also spot bluespotted stingrays and scissortail gobies hovering in a pair. Take a closer look at the rocks and you may discover nudibranchs and pipefish. In the deeper part, you might also have a surprise encounter with a Manta Ray.
Banana Bay Dive Site
Possibly getting its name from the abundance of banana trees that grow on the bay, the east of Racha Noi Island is named "Banana" bay. This is an easy dive site, with a clear shallow flat area starting from 3-10m and hard coral reef slopping gently to 25-30m with staghorn coral occupying most of the area punctuated by white powdery sand.
MARINE LIFE :
Like the other dive site of Racha Noi, reef fish such as fusilier, triggerfish, butterfly fish, and colorful basslets are often found ot top of the staghorn coral. In the shallow you can find giant morays, reef octopus, black and white snapper, sea snake – not dangerous , lion fish and scorpion fish. Lovers of nudibranchs will find them on top of staghorn corals. Look at the blue, you can be lucky and spot Manta Rays.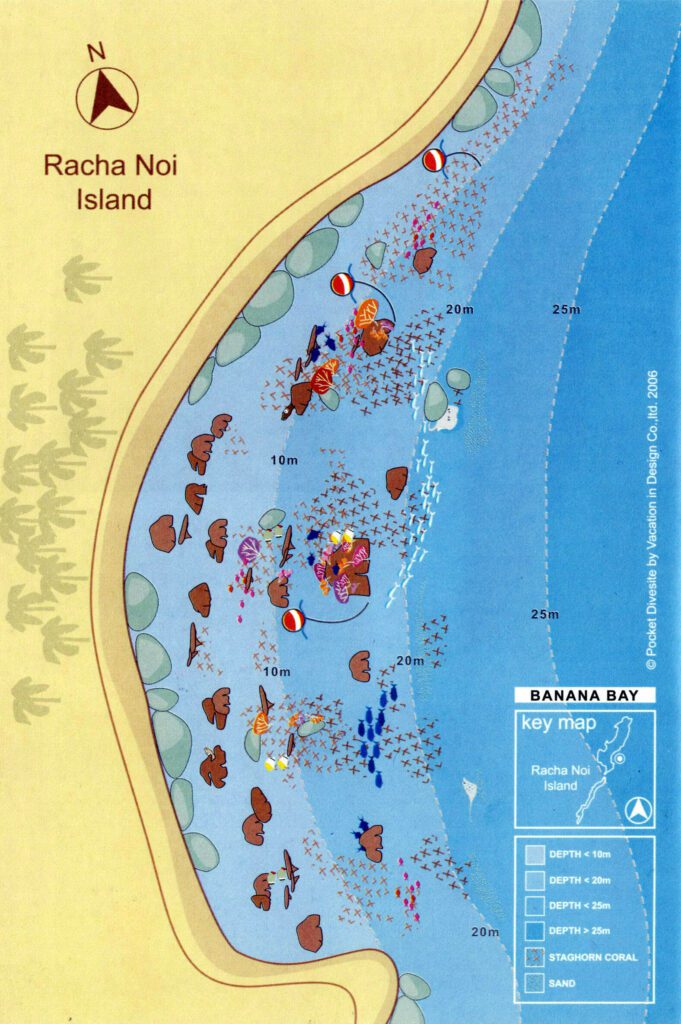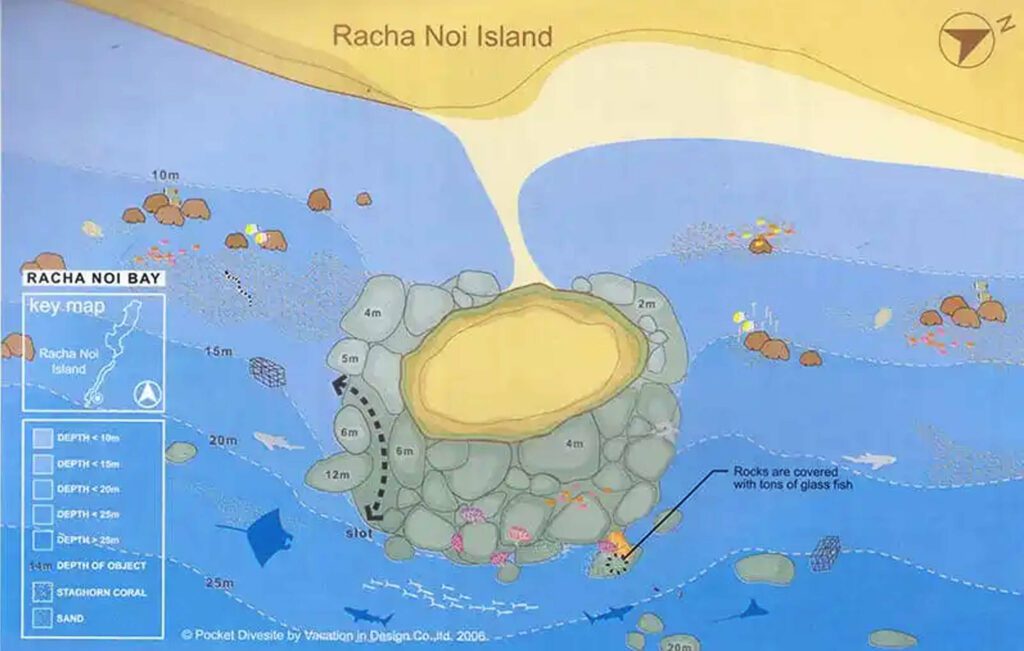 Racha Noi Bay Dive Site
Located on the southeast side of the island, Racha Noi Bay is easily distinguished by the small islet. At low tide, the sand ridge connecting to the main island will be visible. The shallow coral garden at the north and south is highly suitable for snorkeling. The coral gives way to a sandy bottom at depth of 12m . On the rocky portions deeper than 30m, sea fan and sea whips occupy the area with amazing underwater landscapes.
MARINE LIFE :
Divers will be amazed by the variety of creatures. With the usual reef fiches, divers will like to discover scorpion fishes, garden eels, eagle rays and milky fish. Explore the sandy bottom to spot camouflaged cuttle fish, flounder and pipe fish. On calm days, you can even swim off the rocky reef and explore the deep blue for leopard shark, manta ray and even whale sharks.
South Tip Dive Site
South tip is located at the southern of Racha Noi and is not large. It consists mostly of granite boulders at the depths ranging from 15-18m in the north to more than 60m in the south. It the west the rock slope is gentle but the east side is steeper and there are fewer hard and soft corals such as fire and sea fan corals attached to the rock. The current is complex and strong and can become extreme. This dive site is not for beginners or intermediate. For this reason it is difficult to find a daily schedule for this particular dive spot.
MARINE LIFE :
Manta Rays are often spotted here. From February to April you are almost sure to dive with them. There is also surgeonfish, unicornfish triggerfish, damsels and great barracuda are common here. From the other hand, leopard sharks are less.