Phi Phi Islands Diving
Ko Phi Phi Scuba Diving
46 km (29 miles) to the east-southeast of Phuket, the Phi Phi Islands group has been drawing visitors from all four corners of the globe for over a decade. The Phi Phi Islands group is one of Southeast Asia's most striking destinations. Verdant limestone hills rising out of turquoise waters are the first impression that Ton Sai Bay on Ko Phi Phi Don, the main island, gives to newly-arrived travellers. The craggy majesty of Ko Phi Phi Leh provides a marked contrast, while peripheral islands offer a heady cocktail of white-sand beaches, nodding palms, crystal-clear water and superb scuba diving, snorkelling and fun dive activities.
Scuba diving day trips, snorkelling, and fun dives at Ko Phi Phi Islands offer a splendid variety of different types of diving on its local reefs, with abundant hard and soft corals and a rich diversity of marine life suitable for all scuba diving levels. Snorkelling day trips around Phi Phi Island are second to none, with plenty of shallow coral gardens crowning the fringing reefs, which are alive with colourful fish.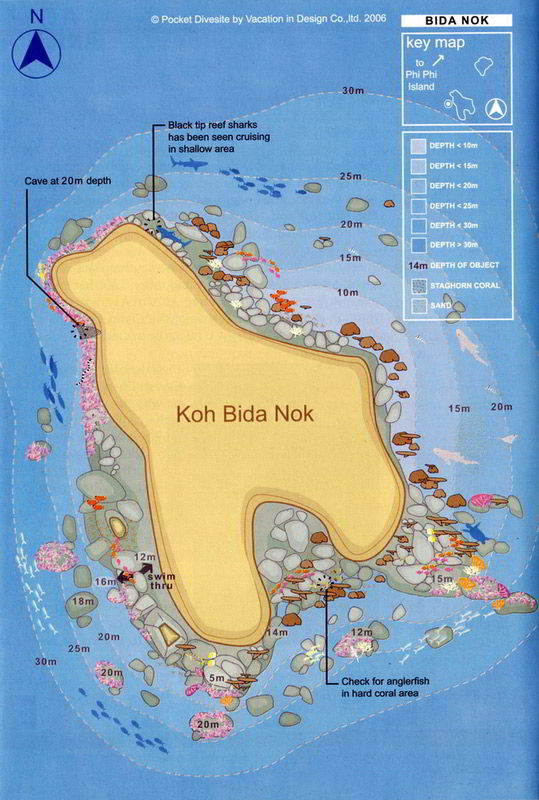 Ko Bida Nok, Phi Phi Island Diving
Ko Bida Nok dive site
Phi Phi Islands Diving – Koh Bida Nok has a remarkably dramatic underwater topography and is characterised by steep precipices, caves, swim throughs, and underwater crags. It is no wonder that Ko Bida Nok and its sister island, Ko Bida Nai, are two of the most popular dive sites in the Phi Phi Islands!
There is a small underwater bay on the southern side of the island made up of reef slopes and rocky floors that start at 6 to 8 metres ( 26 feet) and end in a sandy bottom at 20 metres (66 feet). A vertical swim through on the southwest side of the island, beautifully illuminated by surface light, is not to be missed.
Divers with a cave specialty may also want to check out a narrow cave on the northern side of the island. The cave's entrance is 20 metres (66 feet) away and the wall is covered with colourful and soft corals and gorgonians.
The outcrops of various sizes are scattered along the west coast, sloping down to depths of 26–30 metres (100 feet), while the east coast is a reef slope with a mixture of hard and soft corals and small outcrops.
Leopard and black-tipped reef sharks may sometimes be found along the reef line. Kuhl's stingrays are common in the area, and look out for small bamboo sharks hiding in the cracks.
Look to the blue beyond the reef and you may also see schools of pickled barracuda. Along the reef, you will also find a variety of colourful reef fish, such as puffer fish, porcupine fish, and lionfish. Macro lovers should also keep a sharp lookout for ornate ghost pipefish, seahorses, and nudibranchs.
Diving in the Phi Phi Islands-Koh Bida Nai
Ko Bida Nai dive site:
Ko Bida Nai has an amazing topography of underwater crevices, huge boulders, and a field of staghorn reef.
Stretched across the south and west coasts of the island is a gradual reef slope that starts at a depth of 6 to 8 metres (26 feet) and is made up of hard corals like pore corals, table corals, and staghorn corals. There are also some big boulders and a swim through on the southern side.
The eastern side of the island is a big sand slope with fields of staghorn coral. Scuba divers can find leopard sharks snoozing in the sand, or swim out to the large pinnacle beyond the reef to encounter the big schools of trevally, barracuda, and fusiliers. The top part of the pinnacle is around 18 metres deep (60 feet) and goes to a depth of around 35–38 metres (125 feet).
The topography on the northern side of the island consists mostly of stunning crags and cliffs, with walls dropping vertically to a depth of 28–30 metres (100 feet) before hitting the sandy bottom. In this section, there are soft corals, sea fans, and lots of huge barrel sponges.
Leopard sharks are quite common here, especially on the eastern side of Ko Bida Nai. Black tip reef sharks have been known to make appearances in the area. Divers may also spot and dive with sea turtles. Schools of barracuda and trevally are often sighted near the east pinnacle, as are snappers and mackerel. Scuba divers may also see cuttlefish, honeycomb moray eels, sea snakes, and Kuhl's stingrays. Macro species such as ghost pipefish, nudibranchs, and porcelain crabs are also frequently sighted.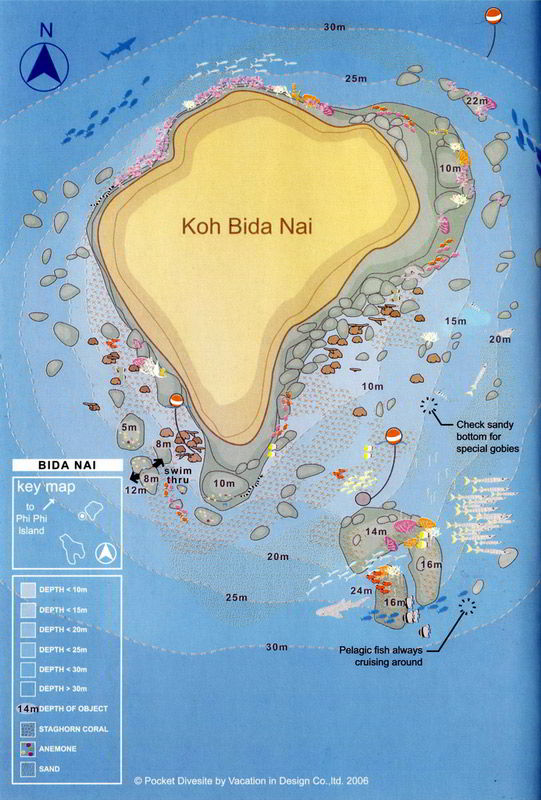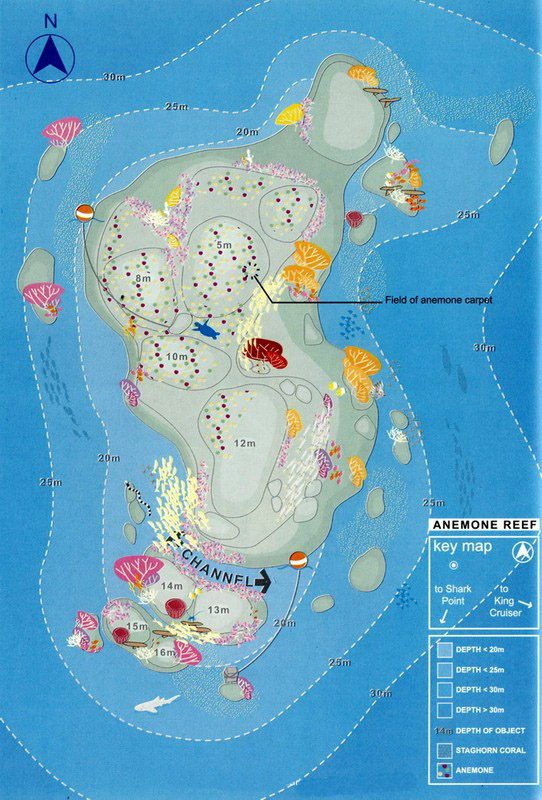 Anemone Reef dive site
Anemone Reef is a submerged pinnacle with its top at 5m (16 feet) giving this dive site its Thai name "Hin Jom" The pinnacle is densely covered with sea anemones presenting an amazing view of sea's own version of the living carpet. The pinnacle has a north-south orientation, with a small sloped channel close to the south part.
The depth ranges from 5 to 30m (16 to 100 feet). Because of the quantity, quality and the variety of marine life that lives in the beautiful coral and sea fans that cover the pinnacle, Anemone Reef is the choice site for divers and photographers.
Anemone Reef marine life
Anemonefish and clownfish are common, as are big schools of snapper that cloud the pinnacle. Schools of yellowtail barracuda are also often seen circling the rock, together with groupers, oriental sweetlips, juvenile harlequin sweetlips, scorpionfish and soldierfish that flit among corals and crevices. Leopard Sharks, possible "escapees" from the famous dive sites nearby, may also swim by from time to time.
Small critters such as tiger-tail seahorses are also found here on occasion. At the shallow areas near the mooring line, ornate ghost pipefish, nudibranchs and even anglerfish have been seen here.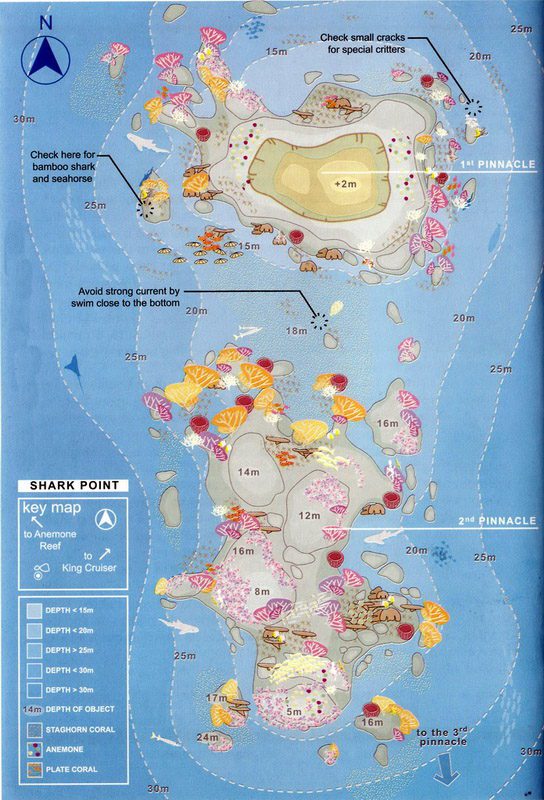 Shark Point dive site
Shark Point was named for the frequent sightings of leopard sharks in the area. Known as Hin Mu Sang by locals, this dive site lies near the Anemone Reef and King Cruiser wreck, and is made up of 3 main pinnacles and is located 27km from Phuket.
This site has the greatest diversity of fish and coral among all the Phuket and Phi Phi Islands dive sites. Each pinnacle is 15-20 metres apart and is covered in purple and pink soft corals, as well as beds of table coral, staghorn coral, coral head, and massive sea fans.The average depth is 15m and the maximum is 30m.
The dive usually starts at one pinnacle and finishes at the next, depending on the currents. As there is a great diversity of marine life, it is almost impossible to cover all the 3 pinnacles in one dive.
Marine life at Shark Point
As the site name suggests, Shark Point is the place to go for divers eager to spot leopard sharks. However, sharks are not the only highlight of the site. The seahorse and ornate ghost pipefish provide divers with a pleasant surprise among the sea fans and coral.
Some species of marine life that inhabit the area are scorpionfish, lionfish, pufferfish, and blue-ringed angelfish. On the rock and between corals, look for colourful nudibranchs, dancing shrimps, and boxfish. Above the reef, there are also schools of barracuda and yellow line snappers.