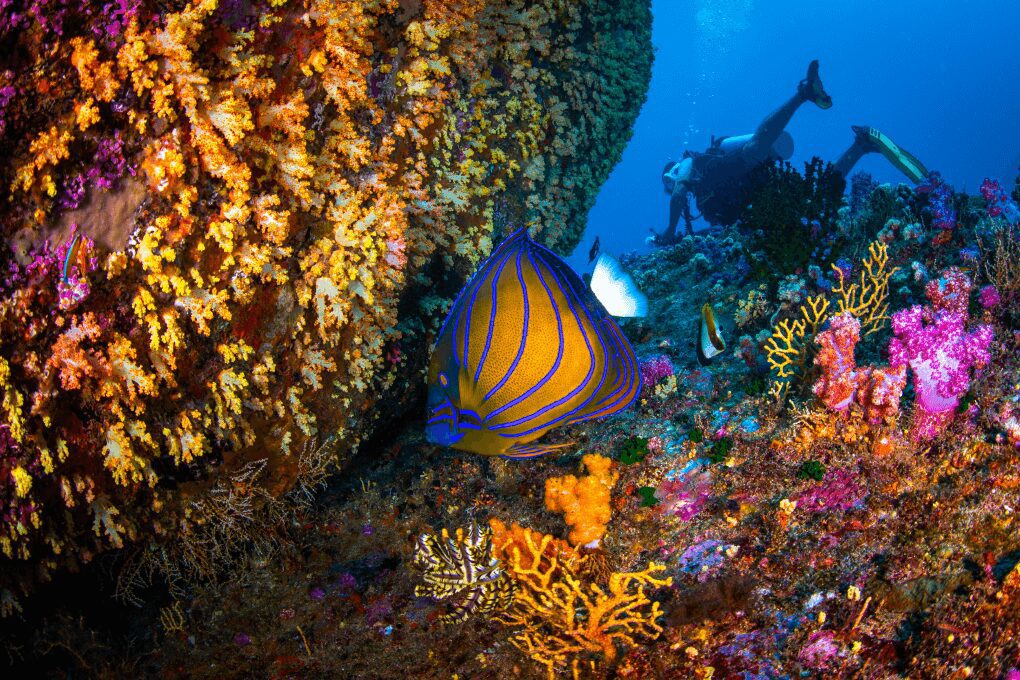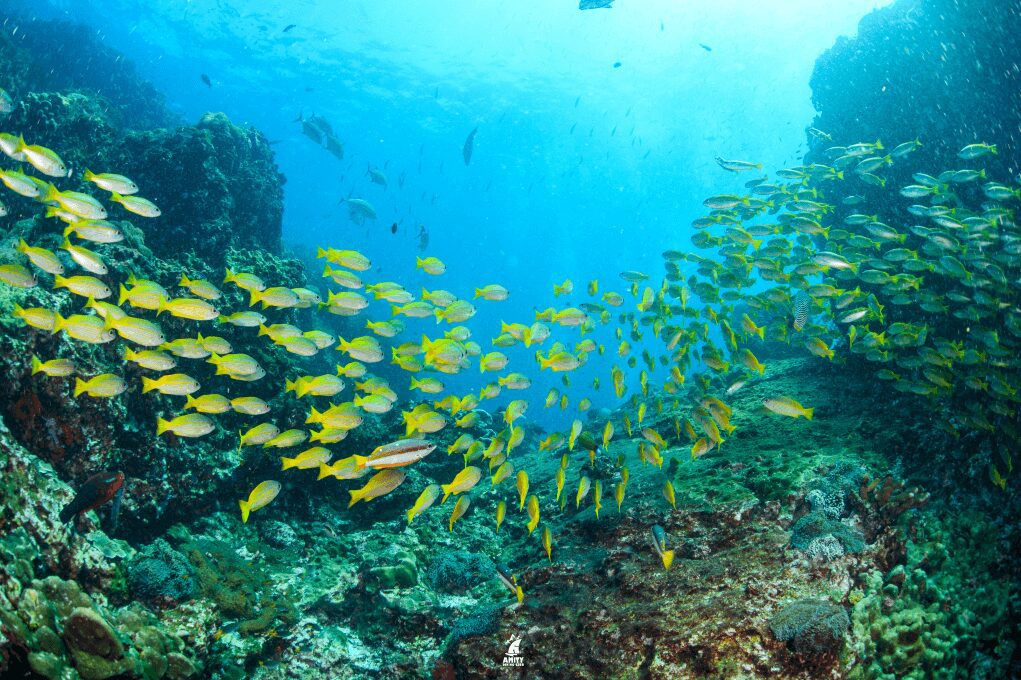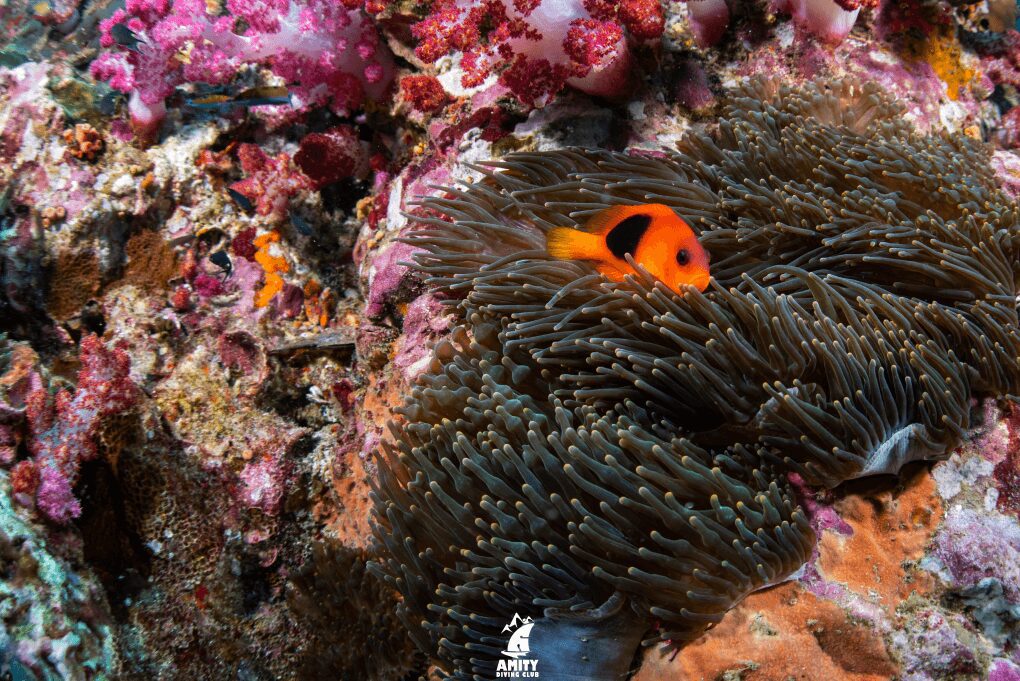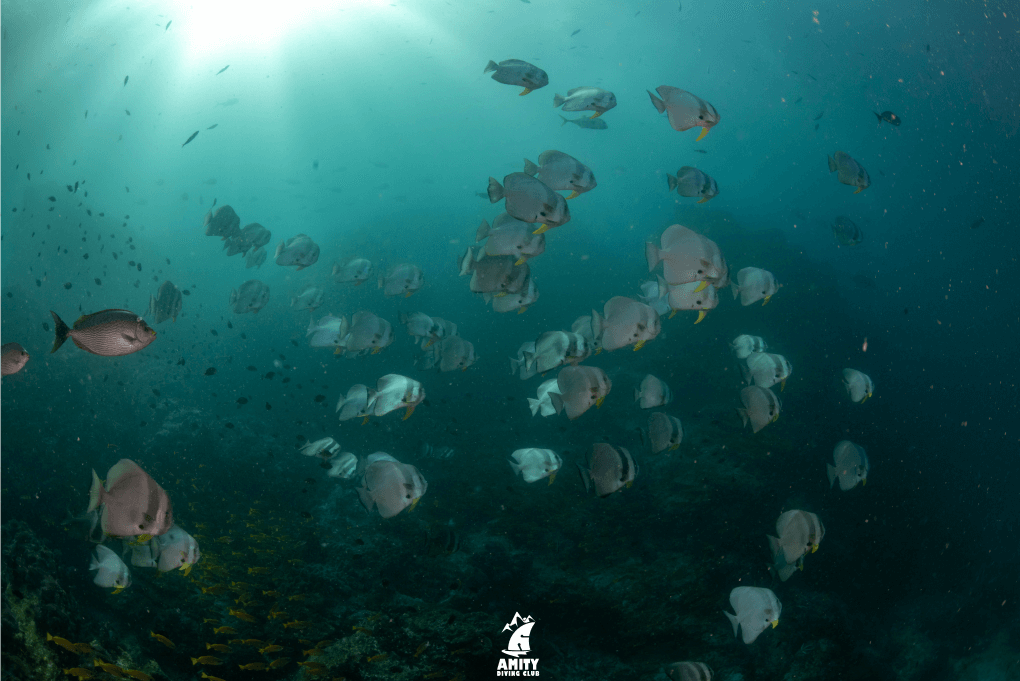 View Gallery
View Gallery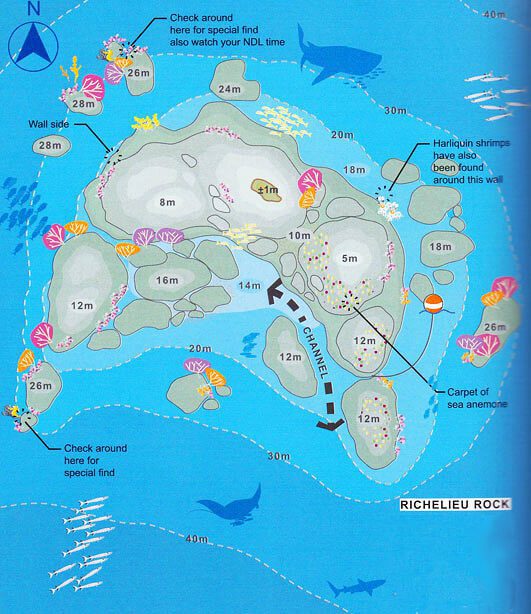 Richelieu Rock
2 Dives / Lunch on the island - Full Day
5,400 THB / PERSON
** This Trip Is For Certified / Licensed Divers Only **
If you are not a certified/licensed diver please go to this link
"One of the best dive sites in Asia"
The world famous "Richelieu Rock" is waiting for you!!


Our Richelieu Rock diving daytrip will take you to this beautiful dive site in 1:30 with our fast speed boat.
Richelieu Rock is a massive underwater rock formation that holds an important diversity of marine life, from small seahorses to giant whale sharks. You will almost certainly find big schools of trevally and barracuda and other schooling fish such as snappers and fusiliers. The very top of the rock is just visible at low tide, but submerged at high tide. Below the surface, Richelieu Rock is approximately horseshoe shaped, consisting of several groups of rocks, pinnacles, overhangs, and small caves. It drops most steeply on the north and west sides, while the south side slopes more gently on the "inside" of the horseshoe. The maximum depth is about 35 meters, but it can be dived mostly at 20–28 meters.
This is an amazing dive site, which is a true paradise for photographers and divers. You will make 2 dives at Richelieu Rock, and between dives, after the 1st dive, the boat will travel. We go to lunch Relax in Surin National Marine Park for about an hour and the boat will return for a second dive, which will give you plenty of time to explore this massive rock formation. You can dive as an Open Water there, but be aware of a bit more current. It's nice if you have either the deep dive (30m) or Advanced certification so you can explore the full depth of the dive site.
Included
Transfers to and from Khao Lak , Bang Niang and The Sea Sky Travel Pier
Service staff and dive leads
Snacks soft drinks, coffee and tea.
Excluded
National Park entrance fee
Boat Schedule - Richelieu Rock
| | | |
| --- | --- | --- |
| Sunday | Richelieu Rock ( Lunch on the Surin Island ) | 2 Dives |
| Monday | Not Available | - |
| Tuesday | Surin Islands & Richelieu Rock ( Lunch on the Surin Island ) | 2 Dives |
| Wednesday | Richelieu Rock ( Lunch on the Surin Island ) | 2 Dives |
| Thursday | Richelieu Rock ( Lunch on the Surin Island ) | 2 Dives |
| Friday | Not Available | - |
| Saturday | Surin Islands & Richelieu Rock ( Lunch on the Surin Island ) | 2 Dives |
More Information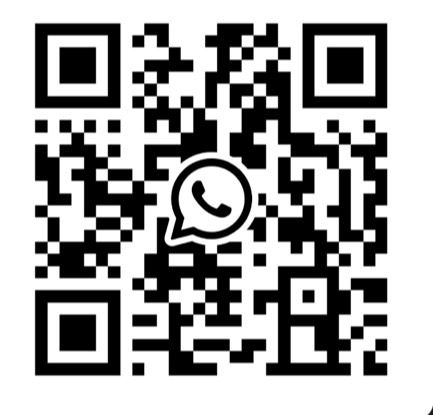 Itinerary
TIME
Pick up from hotels or meet at Sea Sky Travel Pier
Departure from Sea Sky Travel Pier by speed boat
First dive (Diving time 50 minutes)
Lunch Buffet at Surin Island and relaxing time
Second dive (Diving time 50 minutes)
Arrive at the Sea Sky Travel Pier and transfer back to hotel