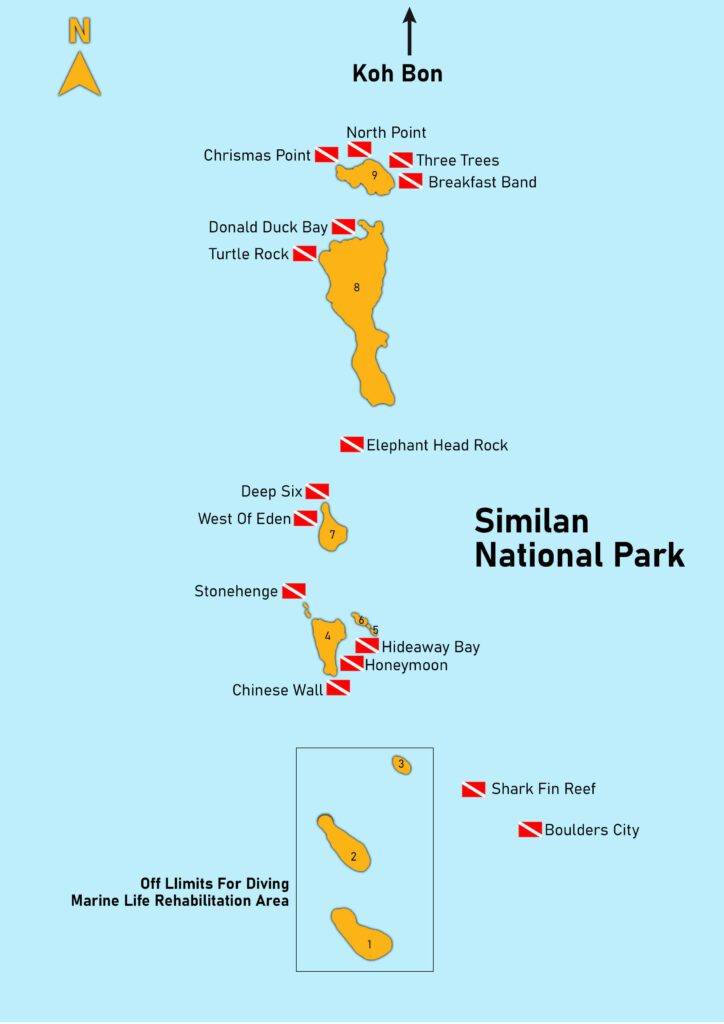 Similan Islands
ON REQUEST
** This Trip Is For Certified / Licensed Divers Only **
If you are not a certified/licensed diver please go to this link
Diving in Mu Ko Similan National Park
"Similan" is a Yawi (a Malayan dialect) word which means nine. The park had originally nine islands numbered 1 to 9 but expanded to include two more remote islands back in 1998; Ko Tachai and Ko Bon. Although each island has a name they can be referred to with numbers.
The islands are; Ko Hu Yong (#1), Ko Payang (#2), Ko Payan (#3), Ko Miang (#4), Ko Ha (#5), Ko Payu (#6), Ko Hin Pousar (#7), Ko Similan (#8), Ko Bangu (#9), Ko Bon (#10, also known as Ko Talu), Ko Tachai (#11).
The two main islands are Ko Miang and Ko Similan.
Renowned for its extraordinary natural beauty and pristine marine ecosystem, the Mu Ko Similan National Park is frequently listed among the top ten dive destinations in the world. The isolated location, coupled with the maritime influence from the Indian Ocean, allows the Similan archipelago to be blessed with an exceptional diversity and abundance of marine life.
Similan Islands dive site topography
The topography of the Similan Islands dive sites offers divers an array of fun adventures beneath the crystal clear turquoise sea water. Each Similan island is distinct in its own way and is surrounded by spectacular underwater rock formations and extensive coral reefs.
The sensational sight that scuba divers get from diving the different dive sites at the Similan Islands includes but is not limited to a profusion of reef inhabitants, colorful soft and hard corals, and sandy seabed that looks as fine as powder.
The east coast of the Similan Islands features white sandy beaches sloping down to gardens of elegant coral, drop-offs with impressive gardens of sea anemones, flourishing hard and soft corals, and teeming fish populations. With negligible currents and mostly moderate depths, these dive sites are suitable for almost any level of diver. The sheltered conditions are ideal as a starting point for Similan Islands diving.
The western side of Similans is quite the opposite. Here, giant boulders tumble down to the seabed at depths of more than 40m. Currents have kept the gaps between the boulders free from build-ups of sand, leading to the development of tunnels, archways, and caverns that provide exciting swim-throughs. The currents also provide nutrients for masses of gorgonians, crinoids, sea fans, and lush soft corals.
With dramatic cliffs and swim-throughs, Similan's west coast offers more challenging dive sites for scuba divers.
Included
Transfers to and from Khao Lak , Bang Niang and The Sea Sky Travel Pier
Service staff and dive leads
Snacks soft drinks, coffee and tea.
Excluded
National Park entrance fee
Boat Schedule – Richelieu Rock
| | | |
| --- | --- | --- |
| Sunday | Not Available | – |
| Monday | Similan Islands ( Lunch on the Similan Island No.4 ) | 2 Dives |
| Tuesday | Not Available | – |
| Wednesday | Not Available | – |
| Thursday | Not Available | – |
| Friday | Similan Islands ( Lunch on the Similan Island No.4 ) | 2 Dives |
| Saturday | Not Available | – |
Itinerary
TIME
Pick up from hotels or meet at Sea Sky Travel Pier
Departure from Sea Sky Travel Pier by speed boat
First dive (Diving time 50 minutes)
Lunch Buffet at Surin Island and relaxing time
Second dive (Diving time 50 minutes)
Arrive at the Sea Sky Travel Pier and transfer back to hotel